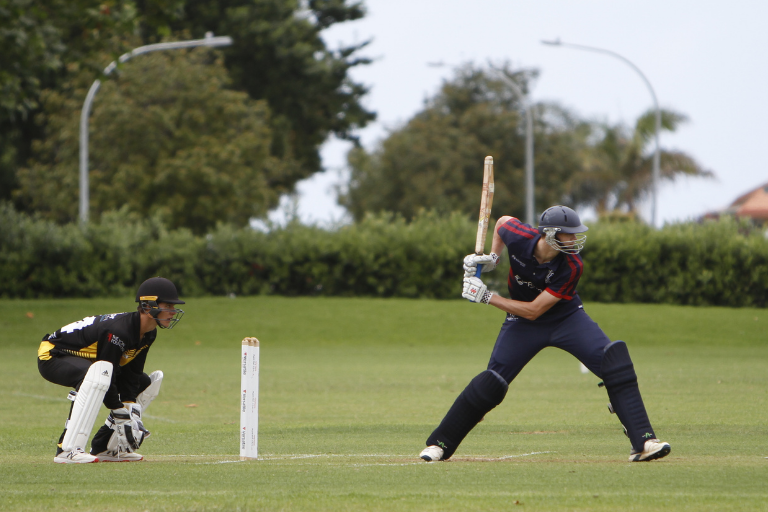 WEEKEND WRAP UP - MILESTONES REACHED AND THE OLDEST COMPETITION IN THE BAY RETURED
BAYLEYS BAY OF PLENTY CUP - ROUND 7
Bond & Co Mount Maunganui showed why they are the team to beat in the Bayleys Bay of Plenty Cup this season with a convincing win against the Flying Mullet Te Puke side.

Te Puke won the toss and decided to have a bowl on the overcast Saturday morning. After getting Oli White out cheaply in the 4th over, Pete Drysdale and Niven Dovey came together for an 82 run partnership. Contributions from Musgrave, Crombie and Baldry helped get the Marlins to a formidable total of 256.

A classy 40 from Te Puke opening Tai Bredgman-Raison and quick runs from Serrurier and MacDonald wasn't enough to get their side into a competitive position. Man of the moment, Dale Swann had the best bowling figures of the day, taking 4 wickets which sealed his place in the record books with 500 wickets in his 300th game for Mount Maunganui!

Bond & Co Mount Maunganui 256/8, 60 overs (Pete Drysdale 88, Niven Dovey 53; Ben Roborgh 3 for 54, Tasman Carsons 3 for 58)
The Flying Mullet Te Puke 126/10, 32.3 overs (Tai Bridgman-Raison 40; Dale Swan 4 for 23, Craig Baldry 4 for 56)
Bond & Co Mount Maunganui won by 130 runs

It was a low scoring affair in Taupo as home side, Generation Homes Lake Taupo, hosted Holland Beckett Law Tauranga Boys College.

Bowling first, the Tauranga Boys opening bowlers put on a stellar performance with Harsh Patel taking 3 wickets in the first 9 overs and ending up with bowling figures of 5-14 at an average of 2.80. Backed up by Billy Syme who snagged 4 wickets for 22 runs, Lake Taupo were all out for 71 in the 31st over.

AJ How started strong for the hosts, taking a wicket in the first ball of the innings and another in the 4th, which put Tauranga Boys at 2/2, but that was as good as it got as Seb Heath and TJ Clarke chased down the total in the 17th over - with 66% of their runs scored coming from 4s.

Generation Homes Lake Taupo 71/10, 30.1 overs (Will Perry 22; Harsh Patel 5 for 14, Billy Syme 4 for 22)
Holland Beckett Law Tauranga Boys College 72/2, 16.2 overs (TJ Clarke 34*, Seb Heath 33*; AJ How 2 for 10)
Holland Beckett Law Tauranga Boys College won by 8 wickets
The low scoring game between Lake Taupo and Tauranga Boys had nothing on what was unfolding over in Papamoa.

After winning the toss and deciding to bowl first, the Element IMF Otumoetai Cadets made scoring runs very difficult for Papamoa with 87% of the balls bowled being dot balls. The end result was Papamoa all out for 65 with Spencer Wells taking an unbelievable 4 wickets for 5 runs (that's an average of 1.25)!

The run chase was a quick one with the Cadets taking 9 overs to score the winning runs with only 3 wickets down.

Papamoa Cricket Club 65/10, 44.5 overs (Paul Inglis 15*; Spencer Wills 4 for 5, Tim Pringle 3 for 26)
Element IMF Otumoetai Cadets 66/3, 9 overs (Fergus Lellman 30; Reece Shelton 1 for 21)
Element IMF Otumoetai Cadets won by 7 wickets

Rain in Rotorua put an abrupt end to the Eves Realty Greerton vs Bayleys Central-Indians game, which was abandoned in the 2nd over of the second innings after a captivating 83 from Umesh Ranaraja helped Greerton to 171 all out in the first innings.

Match Abandoned
ATTRILL CUP ROUND 1
The long awaited return of the Attrill Cup didn't disappoint with clubs coming together and team mates going up against team mates.
Tauranga Coastal (Te Puke, Mount Maunganui and Papamoa) played an U20 side stacked with Bay of Plenty talent at Blake Park.
Tim Pringle continued on his unbelieve form this season with 82 runs off 68 balls, including 8 sixes. Contibutions from Oli White (21), Niven Dovey (30) and Spencer Wills (27) set Coastal a total of 212 to chase down. Cameron Riley was the standout bowler taking 4 wickets and conceding only 16 runs in the first over.
Coastal made the run chase look easy, amassing 45 runs before the first wicket fell. Ben Pomare and Blair McKenzie then partnered up and put on 107 runs before Pomare was bowled in the 29th over by Pringle. with an impressive 86 not out McKenzie guided his team to a 8 wicket win.
Bay of Plenty U20 212/10, 48.4 overs (Tim Pringle 82, Niven Dovey 30; Cameron Riley 4 for 16, Josh Earle 3 for 38)
Tauranga Coastal 216/3, 42.5 overs (Blair McKenzie 86*, Ben Pomare 69; Tim Pringle 2 for 28)
Tauranga Coastal won by 8 wickets

Over in Tauranga Domain, Lakelands (Geyser City, Central-Indians, Lake Taupo) were batting first against Tauranga Central (Greerton, Outometai, Tauranga Boys College) after losing the toss. Central-Indians player coach, Anish Desai, led the way with a brilliant innings - falling short of his century by 4 runs. Together with opener Michael Mitchell they put on a 150 run 2nd wicket partnership. After Mitchell was bowled in the 35th over and Desai followed suit in the 38th, the wickets started to steadily fall and Lakelands were bowled out for 240 runs.
2 wickets in the first over for Central set the tone for the rest of their innings and apart from Logan Murray hitting 6 fours and scoring 31 not out, the Central batsmen never got going and were bowled out for 79. Sam Lund took 4 wickets for 10 runs to achieve the best bowling figures of the match.
Lakelands 240/10, 49.4 overs (Anish Desai 96, Michael Mitchell 60; Fergus Lellman 3 for 40, Mayura Galappaththi 3 for 49)
Tauranga Central 75, 18.4 overs (Logan Murray 31; Sam Lund 4 for 10)
Lakelands won by 165 runs