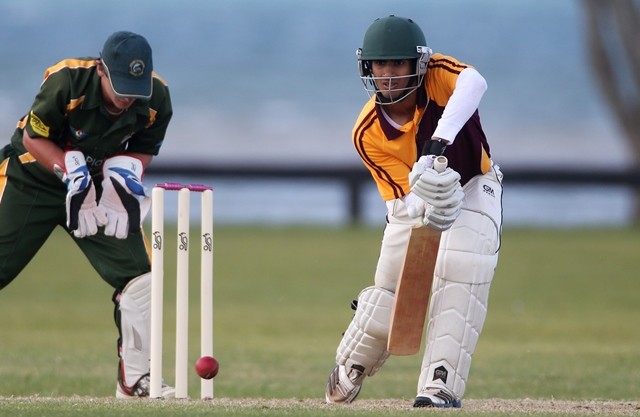 Two Bay of Plenty Representative Batsman Earn March BOPCA Player of the Month Award
The March 2021 Bay of Plenty Cricket Player of the Month Award, will be presented at the BOPCA Prizegiving on the 1st April 2021, to two Bay of Plenty representative batsmen who smashed a all-time partnership record against Counties Manukau at the Te Puke Domain on the 20/21 March 2021.
Bay of Plenty Cricket introduced the BOPCA Player of the Month Award in 2004. The purpose of the award is to recognize excellence in Bay of Plenty Cricket during each month of the playing season.
After winning the toss, the home team made a conservative start, in losing their first two wickets with 86 runs on the board. Enter Bharat Popli and Ben McKenzie, who batted their opponents out of the encounter, with a new Bay of Plenty partnership record of 269 runs.
Both Bay batsmen were in majestic form, with Bharat Popli batting at three, blasting his twelfth provincial century in finishing with 191 runs to his name. His big three figures score, came from 240 balls with nineteen 4's and five 6's.
McKenzie was a little less patient, smacking 165 not out, from 218 balls, with thirteen 4's and nine big heaves over the boundary ropes. Bay of Plenty declared at 445 for the loss of six wickets, late on the opening day's play, with Counties Manukau losing one wicket for 18 runs.
The big third wicket partnership eclipsed the previous record of 208 posted by Bharat Popli and Joe Carter against Hamilton in 2013. Another Bay of Plenty all-time mark set by the pair, was the first time that two Bay batsmen had broke through the 150 plus run barrier in a game.
The two very big turns at bat, propelled Popli into fourth place and McKenzie grabbing the eighth position, behind the all-time highest score of 223 belted by Alex Lees, in a Hawke Cup defence against Counties Manukau in 2017.
The record partnership, played a big part in the Bay of Plenty Senior Men's team winning the Northern Districts Cricket big prize of the Fergus Hickey Rosebowl for the seventeenth occasion.
Bharat Popli, highest score since his representative debut against Hamilton in December 2008, takes his list of BOPCA centuries to twelve, five ahead of Joe Carter, who sits with seven three-figure scores to his name.
Bay of Plenty Cricket Player of the Month Awards 2020/21
March 2021: Bharat Popli and Blair McKenzie (BOPCA Representative Team) v Counties Manukau.
February 2021: Taylor Bettelheim (BOPCA Representative Team) – 211no v Waikato Valley
January 2021: Cameron Neal (Greerton Cricket Club) – 202no v Mount Maunganui
December: Nathan Hall (Central CC Resere Grade team) - 250no v Taupo Old Boys
November: Tom MacRury (Greerton CC Premier team) - 114 v Central Indians, 110 v Geyser CC.