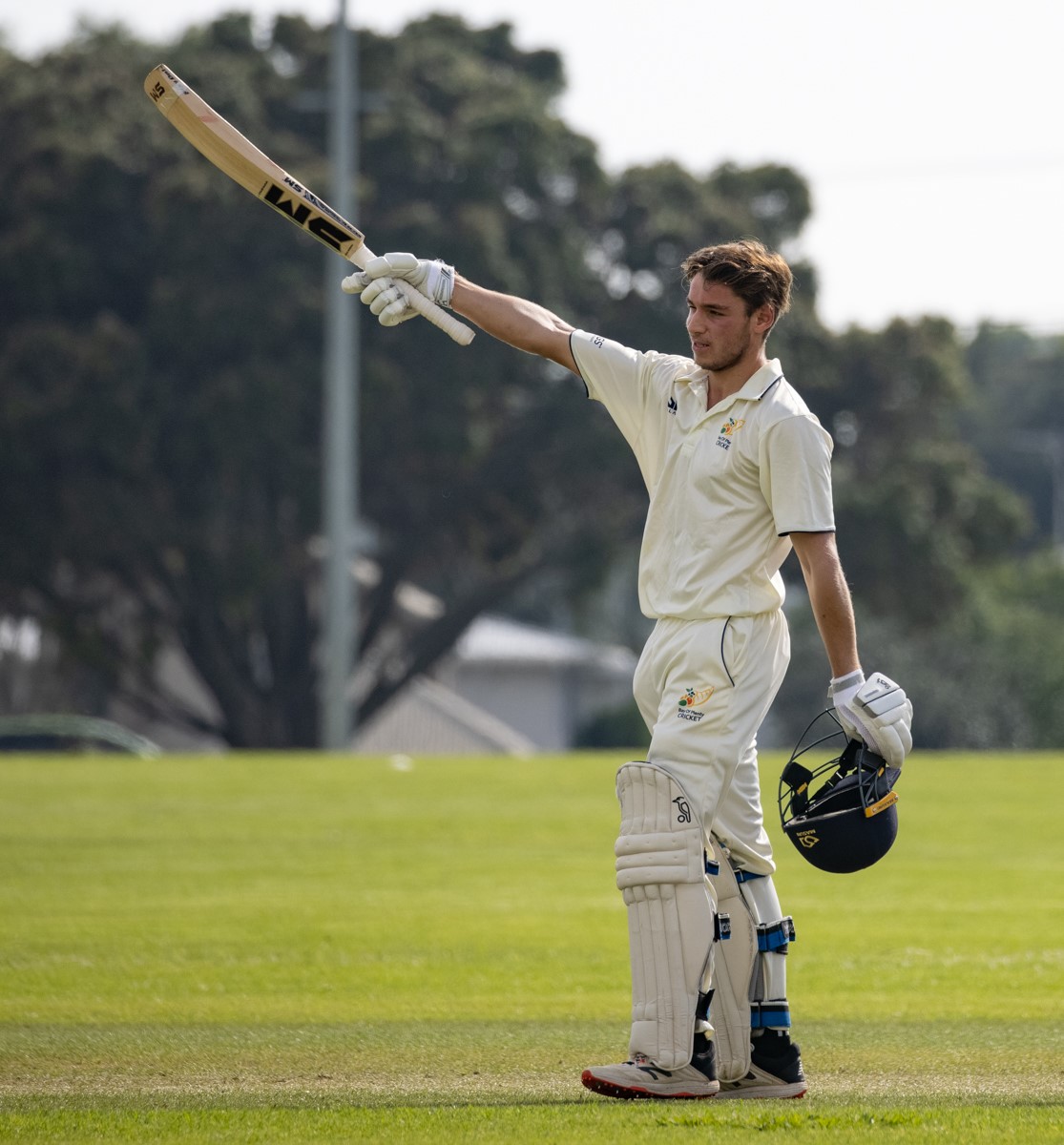 Taylor Bettelheim Wins Bay of Plenty Cricket Player of the Year
The recent Bay of Plenty Cricket Prizegiving saluted the achievements of players and officials during the 2020-21 cricket season.
Taylor Bettelheim, was presented with the Bay of Plenty Cricket Player of the Year, for his achievements with his willow weapon during the season. Taylor became just the third (and youngest) player since Bay of Plenty affiliated to New Zealand Cricket in 1931, to break through the 200 run barrier, when he smashed a unbeaten 211 against Waikato Valley.
The double century followed, 133, against arch-rivals Hamilton just four weeks previously. Bettelheim was the leading run scorer in the ND Fergus Hickey Rosebowl competition and has belted four centuries in just 16 Bay of Plenty appearances. For good measure he also posted a NZC Provincial A three figure score.
The BOPCA First Class Player of the Year was awarded to Black Cap Captain Kane Williamson, for the sixth successive year. Some of the Black Cap skippers achievements in the last twelve months, included two double hundreds, ICC Number One ranked batsman and leading New Zealand to the ICC World Test Championship Final.
Taylor Bettelheim, took out the BOPCA Mike Wright batting award with 474 runs and two centuries to his name. Peter Drysdale, who leads the Bay of Plenty appearance with 115 games has developed over the years into a genuine spin bowling option, was awarded the BOPCA Derek Beard bowing trophy taking 18 wickets.
Bay of Plenty Development honours, were taken out by Michael Mitchell with 289 runs and Finn Dempsey taking eight wickets including a highly sought after six wicket bag.
Niven Dovey was presented with the Brendan Bracewell Most Promising Player trophy, with the citation saying that Niven was recognised for leading the Bay of Plenty Development team, to win the ND Development competition prize of the Basil McBurney Trophy. His ability was recognised outside the region with selection in the ND Under 19 team, with the undoubted highlight being 106 against Otago, at the National age-group tournament.
2020/21 Bay of Plenty Cricket Awards
Bay of Plenty Cricket Player of the Year Taylor Bettelheim
Bay of Plenty First Class Player of the Year Kane Williamson
BOPCA Senior Men's Representative Team
Mike Wright Batting Trophy Taylor Bettelheim 474 runs
Derek Beard Bowling Trophy Peter Drysdale 18 wickets
BOPCA Development Team
Development Team Batting Trophy Michael Mitchell 289 runs
Development Team Bowling Trophy Finn Dempsey 8 wickets
Brendan Bracewell Most Promising Player Niven Dovey
Bay of Plenty Cricket Player of the Month Awards 2020/21
November 2020: Tom MacRury (Greerton CC Premier team) - 114 v Central Indians, 110 v Geyser CC.
December 2020: Nathan Hall (Central CC Resere Grade team) - 250no v Taupo Old Boys
January 2021: Cameron Neal (Greerton Cricket Club) – 202no v Mount Maunganui
February 2021: Taylor Bettelheim (BOPCA Representative Team) – 211no v Waikato Valley
March 2021: Bharat Popli and Blair McKenzie (BOPCA Representative Team) - B Popli 191 & B McKenzie 165no v Counties Manukau
Significant Representative Milestones (Centuries & Five Wickets or better)
Batting
211no Taylor Bettelheim v Waikato Valley
191 Bharat Popli v Counties Manukau
165no Blair McKenzie v Counties Manukau
133 Taylor Bettelheim v Hamilton
Bowling
6/48 Tim Pringle v Hamilton
6/32 Finn Dempsey v Hamilton Development
5/42 Peter Drysdale v Counties Manukau
BOPCA Service Awards: Colin Rampling, Crispian Stewart, Jake Ryan, Stu Martin, Grant Manners.
Hart Family Trophy (Baywide Champion of Champions) – Mount Maunganui CC
Versatile Tauranga Williams Cup (Baywide Premier One-Day Championship) – Mount Maunganui CC
Versatile Tauranga Williams Cup Plate – Te Puke CC
Bay of Plenty Cup (Baywide First Round) – Greerton CC
The Havana Eatery (Baywide Twenty 20 – Mount Maunganui CC
McNaughton Trophy (Baywide Reserve Grade Championship) – R&A Sangha CC