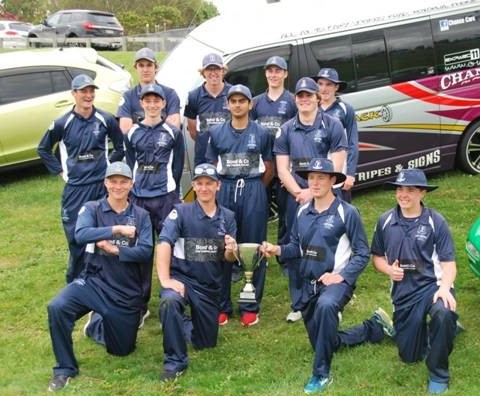 Tauranga Boys College Win Inaugural CHANCE CARS Geyser Cup
Holland Beckett Law Tauranga Boys College, won the inaugural Chance Cars Geyser Cup invitational cricket tournament played over the weekend (10/11 October 2020), when they defeated Bayleys Central Indians, in the title decider.
Tauranga Boys and Rotorua's Central Indians, were joined by Geyser Cricket Club and Hawkes Bay visitors Taradale, for two rounds of T20 competition at Smallbone and Boord Parks on day one.
The Tauranga students and Central Indians emerged with two wins apiece from the T20 shootouts, with the two victors moving directly to a 40 over final on day two. Geyser City and Taradale played off for third place in a 30 over encounter.
Bond & Co Tauranga Boys College with the inaugural Geyser Cup
Tauranga Boys won the toss and elected to bat, only to lose their first win with just one run on the board. At 20/3 they need stability at the wicket - which was provided by Tim Pringle and Tim Clarke, who put on a 79 run partnership. When Pringle was removed for 54, Clarke remained steadfast at the wicket to take his team to 212/9, with an unbeaten 93 runs off 71 balls.
The Rotorua combined sides reply got away to a good start and with 72 runs on the board for the loss of just two wickets, the game appeared up for grabs. Tauranga Boys piled some pressure on with the ball and were rewarded with three wickets. The visitors bowling blitzkrieg continued and at 127/9, the game seemed over.
However a fighting last wicket partnership between Andrew Gibbs and number eleven Neraj Kumar, produced a 53 run stand. Neraj Kumar launched a attack on the opposition bowlers, which produced a undefeated 42 runs of just 23 balls, including seven 4's and one big heave over the boundary ropes.
When Andrew Gibbs was dismissed in the 35th over, the combined side had gained genuine respectability in posting 180 runs, some 33 runs short of their target. Jack Jones bowled line and length to be rewarded with three wickets.
Geyser CC strode to the wicket in a confident manner against Taradale in the battle for third place. Ben Astwood top scored with 39 runs, receiving good support from Cohen Stewart and Cody Fell who both reached the twenties, as the home side posted 186 for the loss of eight wickets.
Taradale made a confident start, with Reece Henderson anchoring his sides turn at bat with a gritty half century. Cody Fell and Josh Simpson gave few runs away, with the pair taking two wickets, as Taradale were bowled out for 158 to give the Geyser representatives a 28 run win.
Day one action early action, saw Tauranga Boys blast 208/5 and then restrict Geyser to 127/8, with Central Indians beating the Hawkes Bay side by 81 runs.
The afternoon T20 encounters, resulted in a remarkable matchup between Taradale and Tauranga Boys College, where four hundred runs were blasted as just three wickets fell in the two innings.
Taradale blasted 208 for the loss of a solitary wicket, with Callum Hewetson smashing a neat century and Harry Cooper belting 67, in a 164 run unbeaten partnership.
The Western Bay side wasn't fazed by the big target and took to the opposition bowling with real enthusiasm. Ben Vyver smacked 69 off 40 balls, while Niven Dovey took aim on the Taradale bowlers with 68 runs from 36 balls, as they got home with eight wickets in hand and seven balls to spare.
Central Indians won the Rotorua local derby, after posting 145 for seven wickets, they then bowled Geyser out for 94.
Chance Cars Geyser Cup 10/11 October 2020 – Results
Final (40 Over) Holland Beckett Law Tauranga Boys College 213/9 (Tim Clarke 93, Tim Pringle 54; Andrew Gibbs 3/12) defeated Bayleys Central Indians 180 (Neraj Kumar 42no, Lovely Sandhu 33, Vinny Pathania 27; Jack Jones 3/24)
Third Place (30 Over) Geyser CC 186/8 (Ben Astwood 39, Cohen Stewart 27, Cody Fell 24; Charlie Geange 2/16, Ethan Madden 2/24) defeated Taradale CC 158 (Reece Henderson 52, Luke Kenworthy 29; Cody Fell 2/21, Josh Simpson 2/27)
Round Two
Central Indians 145/7 (Julian Danby 37, Lovely Sandhu 26; Matt Collier 2/26) defeated Geyser CC 94 (Ramneet Singh 21; Steve Nicholls 3/14)
Taradale 208/1 (Callum Hewetson 100no, Henry Cooper 67no) lost to Tauranga Boys College 211/2 (Ben Vyver 69, Niven Dovey 68no, Charles Williams 48)
Round One
Tauranga Boys College 208/5 (Ben Vyver 76, Niven Dovey 59; Joe O'Donoghue 2/18) defeated Geyser CC (Ben Astwood 34; Riley Brady 2/8, Liam Collett 2/10)
Central Indians 186/5 (Bharat Popli 85, Steve Nicholls 44; Harry Cooper 2/30)