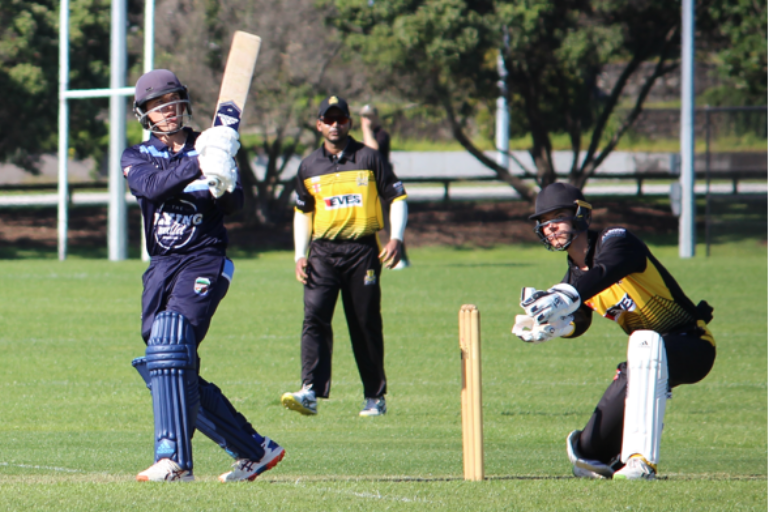 RECAP OF ALL THE ACTION FROM THE BAYLEYS BAYWIDE CUP T20 - ROUNDS 1 & 2
The season got off to a cracking start on Saturday with Northern Districts representative Joe Carter smashing 136 not out off 63 balls, including ten 4s and ten 6s – his highest score ever for the Element IMF Otumoetai Cadets.
The day started with the Bond & Co Mount Maunganui Cricket Club winning the toss and electing to bat against Generation Homes Lake Taupo Cricket Club. With solid contributions from the top order, Mount Maunganui were looking to be in a good position. This was strengthened even more when Matt Golding then came in at 5 to score a quick fire 62 off 26 balls.
Lake Taupo Cricket Club started the innings slow as the Mount Maunganui bowlers got into their work. Apart from a couple of big hits from Caleb Bate (20) and a solid 20 runs from Michael Mitchell, Lake Taupo never got going and only managed a total of 68, 114 runs short of the total.
Over on the other ground, Papamoa had won the toss and decided to bat first against the Bayleys Central Indians. Papamoa managed to muster up a total of 103/5 in this low scoring game with new recruit Jass Randhawa getting the highest score of 36. Andrew Gibbs took the most wickets for the Central Indians with 3-17
The Central Indians batsmen never really got firing with a run out early in the innings and were bowled out 11 runs shy in the last over.
Meanwhile, in Pool 2, Eves Realty Greerton Premier were sent into bat first by the Craigs Investment Partners Geyser Cricket Club. Tom MacRury got off to a flying start with 60 runs off 31 balls. Northern Districts contracted player Brett Hampton then joined him for a quick fire 86 off 37 runs (at a strike rate of 232).
A couple of early wickets from Jared Tutty set the tone for Geyser Cricket Clubs run chase as they only managed to amass 92/9 from their 20 overs, losing by 98 runs.
For their first game of the day, the Element IMF Otumoetai Cadets won the toss and put themselves in to bat against Holland Beckett Law Tauranga Boys. Contributions from Fergus Lellman (30), Tim Pringle (56) and Liam Collett (26) helped set the target of 172. Logan Murray's 26 wasn't enough to help his team to a competitive total with the Cadets winning by 66 runs.
Round 2 started with the Bayleys Central Indians batting first and setting the Bond and Co Mount Maunganui side a total of 108 for the win. Rupert Drysdale continued his form from the mornings game with 49 not out, he was joined at the crease by Brett Randell and together they put on a partnership of 47 runs to win the game by 6 wickets.
Some fantastic bowling by Ben Goodall (4-16) kept the Generation Homes Taupo prems to 130 runs for 8 wickets in their 20 overs. But Papamoas top order couldn't get going and with their two highest scorers, Vishal Goundar (41) and Paul Inglis (24) both being run out late in the innings, they fell short by 18 runs.
Playing their first game of the season after a bye in the morning, The Flying Mullet Te Puke side won the toss and put Eves Realty Greerton in to bat. Unable to replicate the batting prowess they showed in the first game reaching a total of 130 in their 20 overs. Te Puke looked in control and comfortable chased down the score in the 16th over to win by 9 wickets. Ben Vyer and B McKenzie scoring 46 and 47 not out respectively.
There were fireworks on the other pitch with Joe Carters thrilling 136 off 63 balls at a strike rate of 216. Getting in on the action, Tim Pringle blasted 53 off 27 balls to help the Element IMF Otumoetai Cadets reach 224/2. The Craigs Investment Partners Geyser City premiers had no reply as they fell just 76 all out in 18 overs. Giving the Cadets a 148 run win against the Rotorua side.
Special mention to Moko Rivers, William Perry and Habib Malik for playing their 100th game for the Generation Homes Lake Taupo Cricket Club.
Bayleys Baywide Cup T20 – 16th October 2021
ROUND 1
Pool 1
Bond & Co Mount Maunganui 182/7 - 20 overs (Matt Golding 62, Niven Dovey 35; Dale Swan 3 for 15)
Generation Homes Lake Taupo 68/9 – 20 overs (Michael Mitchell 21, Caleb Bate 20; AJ How 2 for 25, Habib Malik 2 for 37)
Bond & Co Mount Maunganui won by 114 runs
Papamoa Cricket Club 103/5 – 20 overs (Jass Randhawa, Aman Mahal 20; Ben Goodall 3 for 20)
Bayleys Central-Indians 92/10 – 19.3 overs (Nadeera Nawela 28; Andrew Gibbs 3 for 17)
Papamoa won by 11 runs
Pool 2
Eves Realty Greerton 190/10 – 20 overs (Brett Hampton 86, Tom MacRury 60; Nick O'Sullivan 4 for 7)
Craigs Investment Partners Geyser City 92/9 – 20 overs (Cam Ingram 23, Vinay Pathania 23; Goldendeep Brar 3 for 9)
Eves Realty Greerton won by 98 runs
Element IMF Otumoetai Cadets 171/7 – 20 overs (Tim Pringle 56, Fergus Lellman 30; Tim Pringle 3 for 8)
Holland Beckett Law Tauranga Boys College 105/7 – 20 overs (Logan Murray 26; Darcy Collett 2 for 21)
Element IMF Otumoetai Cadets won by 66 runs
ROUND 2
Pool 1
Bond & Co Mount Maunganui 109/4 – 18.5 overs (Rupert Drysdale 49, Brett Randell 26; Dale Sawn 3 for 23)
Bayleys Central-Indians 107/8 – 20 overs (Daniel Ford 39; Andrew Gibbs 2 for 8)
Bond & Co Mount Maunganui won by 6 wickets
Generation Homes Lake Taupo 130/8 – 20 overs (Habib Malik 34, Michael Mitchell 30)
Papamoa Cricket Club 112/10 – 20 overs (Vishal Goundar 41, Paul Inglis 24; Ben Goodall 4 for 16)
Generation Homes Lake Taupo won by 18 runs
Pool 2
The Flying Mullet Te Puke 135/1 – 15.4 overs (Blair McKenzie 47, Ben Vyver 46; Mikaere Leef 3 for 17, Christian MacDonald 2 for 17)
Eves Realty Greerton 130/9 – 20 overs (Brandan Laurenzi 38, Umesh Ranaraja 32; Tim Burke 1 for 18)
The Flying Mullet Te Puke won by 9 wickets
Element IMF Otumoetai Cadets 224/2 – 20 overs (Joe Carter 136, Tim Pringle 53; Tim Pringle 4 for 6)
Craigs Investment Partners Geyser City 76/10 – 18 overs (Vinay Pathania 28; Ben Astwood 1 for 19)
The Element IMF Otumoetai Cadets won by 148 runs