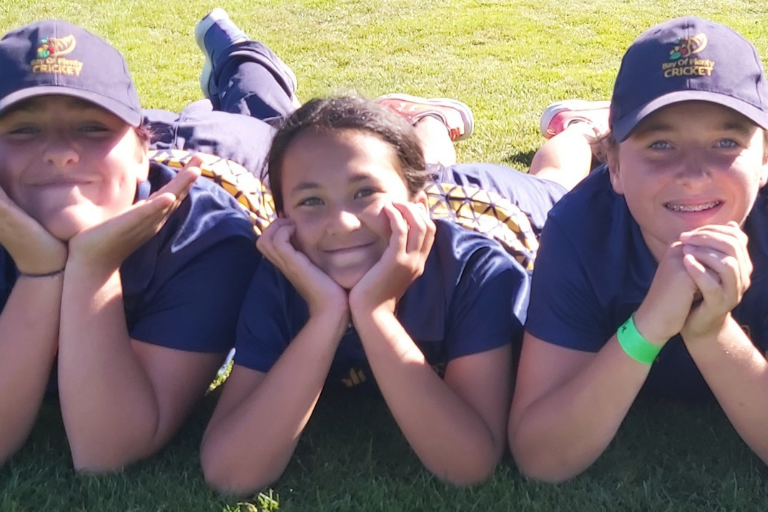 PREVIEW TO A BIG LABOUR WEEKEND OF CRICKET IN THE BAY
An action packed Labour weekend of cricket is coming up in the bay!

We start with the Labour Weekend Invitational where the Bay of Plenty U16 girls are up against 2 Manawatu teams and Mount Maunganui team - the Hamilton and Auckland teams were unable to travel due to both regions being at Level 3 restrictions.

Crispian Stewart will be coaching the team and thinks the future is looking bright with the talent coming through. In particular Sadie Stewart who will be wanting to build on her impressive batting form where she was the top run scorer in the BOP girls most recent tournament in Auckland.

The first round of the Bayleys Bay of Plenty Cup is starting on Saturday with Northern Districts representative and former Blackcap Jeet Raval making his debut for Eves Realty Greerton Cricket Club.

Club President, Steve Wineti, is thrilled to have Raval on board and knows he will be a great addition to Greerton CC.

"We are stoked to have a player of his calibre and experience joining the club. It's great for our young players and our juniors so we welcome Jeet to the club and look forward to seeing him wearing black and yellow".

The Craigs Investment Partners BOP Senior Mens team will start their season with a few friendly games against a Northern Districts U19 representative side including a 50 over match on Sunday and two T20s on Monday.
Coach, Daniel Flynn, is looking forward to getting back into it and is excited about what the team can achieve this season.

"We will be looking to build on the bit of success we had last season with what is still a reasonably young squad. This weekend presents guys a great opportunity to put to the test the things they've been working on throughout the winter."



BOP GIRLS U16 TEAM - 23-24 October 2021 at Waipuna Park
Sadie Stewart
Charli Parkinson
Freya Lord
Sophie Macken
Grace Duncan
Brittany Jenkins
Mackenzie Grant
Faith Anderson
Jessica Benge
Coach: Crispian Stewart
Fixtures: https://www.crichq.com/competitions/13828/draws/53198/rounds
CRAIGS INVESTMENT PARTNERS BOP SENIOR MENS TEAM
50 Over - 24 October 2021 at Blake Park
Joe Carter
Taylor Bettelheim
Fergus Lellman
Brett Hampton
Tim Pringle
Ben Pomare (C)
Blair McKenzie
Peter Drysdale
Cameron Riley
Josh Earl
Iman Singh
Henry Conway
Bharat Popli
https://www.crichq.com/competitions/14522/draws/53118/rounds

T20 - 25 October 2021 at Blake Park
Round 1
Fergus Lellman
Ben Pomare (C)
Taylor Bettelheim
Petter Drysdale
Ben Musgrave
Blair McKenzie
Michael Mitchell
Iman Singh
Josh Earl
Cameron Riley
Mikare Leef
Finn Dempsey

Round 2
Blair McKenzie
Tim Pringle
Ben Musgrave
Peter Drysdale
Ben Pomare
Michael Mitchell
Taylor Bettelheim
Mikare Leef
Finn Dempsey
Fergus Lellman
Henry Conway
+ One other
https://www.crichq.com/competitions/14522/draws/53120/rounds


BAYLEYS BOP CUP ROUND 1 - 23 October 2021
https://www.crichq.com/competitions/8967/draws/52414/rounds