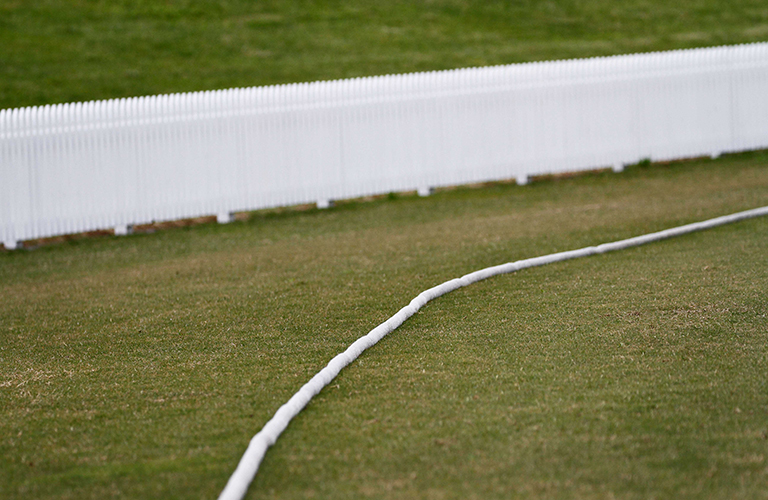 ND Secondary Boys Day 4
Gisborne
There have been few better days for Bay of Plenty age-group cricket, than day four of the 2018 ND Senior Secondary tournament, where the two Bay sides simply blasted their opponents out of the respective encounters.
The Coastland opening pair of Taylor Bettlehiem and Jacob Logan took control of the championship semi-final against Counties Manukau, from the opening ball of the game. When Jacob was dismissed in the 39th over with 86 runs in the scorebook, the Bay side were 198/1. Taylor continued on the momentum to post a magnificent 131, with Coastlands in total control at 266 for three, with just 14 balls remaining.
Counties Manukau faced a huge target, after Coastland's ended their innings at 299 for the loss of four wickets and were never really in the hunt for victory. They were removed for 181with ten overs remaining to give the Bay side a big 118 run win. Iman Singh grabbed three wickets for 35 runs with Jacob Logan and Finn Dempsey taking two bowling scalps apiece.
Bay of Plenty Lakeland were no less impressive than there Coastland counterparts, with a huge 198 run victory against Poverty Bay, in their Plate semi-final. Batting first, the Lakeland team overwhelmed the opposition bowlers to post 266/6. The top four of Cameron Ingram (77) Bradley Wiggins (45) Louie Love-Parata (57) and Chris Tupea (38) anchored their sides big score.
A magnificent bowling performance from Tommaso Pini, wrecked the Poverty Bay reply, as they were bundled out for 68. Tommaso took six wickets at a cost of only 11 runs as Poverty Bay failed to cope with the magic weaved by the Lakeland bowler. Another outstanding performance, was put on by keeper Cameron Ingram, who took six catches behind the stumps including four off Tommaso's bowling and a caught and bowled.
Day Five is Finals playoff day, with Bay of Plenty Coastland meeting Hamilton in the ND Championship title decider and Bay of Plenty Lakeland going head to head in the Plate Final with Waikato Valley.
ND Senior Secondary Cricket Tournament @ Gisborne 10-14 December 2018
Day Four (13 December) – One-Day Semi-Finals
Championship: Bay of Plenty Coastland 299/4 (Taylor Bettlehiem 131, Jacob Logan 86, Iman Singh 20) defeated Counties Manukau 181 (Iman Singh 3/35, Finn Dempsey 2/24, Jacob Logan 2/26)
Plate: Bay of Plenty Lakeland 266/9 (Cameron Ingram 77, Louie Love-Parata 57, Chris Tupea 38, Bradley Wiggins 45) defeated Poverty Bay 68 (Tommaso Pini 6/11, BJ Astwood 2/6)
Day Five (14 December 2018) One-Day Games Draw
Championship Final: Bay of Plenty Coastland v Hamilton
Plate Final: Bay of Plenty Lakeland v Waikato Valley
Day Three (12 December) – One-Day Quarterfinals
Bay of Plenty Coastland 184/9 (Carson Wills 41, Dominic Crombie 35, Jacob Logan 28, Finn Dempsey 27) defeated Waikato Valley Dominic Crombie 4/36, Cam Riley 3/28)
Bay of Plenty Lakeland 142/9 (BJ Astwood 39, Chris Tupea 30, Nathan McNeish 24, Bradley Wiggins 22) lost to Hamilton 143/5 (Chris Tupea 2/15, BJ Astwood 2/16)
Day Two (11 December) – Twenty 20
ND Twenty 20 Playoffs
Third Place: Waikato Valley 122/6 (Jacob Logan 2/13, Finn Dempsey 2/19) lost to Bay of Plenty Coastland 123/3 (Jacob Logan 50, Dillan Preston 27, Dominic Crombie 24no)
Seventh Place: Poverty Bay 94/6 (Bradley Wiggins 2/11, BJ Astwood 2/14) lost to Bay of Plenty Lakeland 97/5 (Cameron Ingram 24no, BJ Astwood 22no)
Pool A – Round Three
Waikato Valley 109/9 (Nathan McNeish 3/12, BJ Astwood 2/9, Connor Scott0Moore 2/29) defeated Bay of Plenty Lakeland 99/7 (Cameron Ingram 32)
Pool B – Round Three
Bay of Plenty Coastland 183/4 (Jacob Logan 81, Dominic Crombie 40, Marcel Collett 23no) defeated ND Invitation XI 135 (Cam Riley 2/16, Rhys Dongaghy 2/24)
Day One (10 December) – Twenty 20
Pool A
Bay of Plenty Lakelands 98/9 (Chris Tupea 44, Thomas Friskney 22) lost to Northland 99/4 (Tommaso Pini 2/20)
Counties Manukau 117/8 (Tommaso Pini 3/22, Connor Scott-Moore 2/21) defeated Bay of Plenty Lakeland 115/4 (Chris Tupea 57, Louie Love-Parata 41)
Pool B
Poverty Bay 70 (Dominic Crombie 3/13, Rhys Donaghy 2/14) lost to Bay of Plenty Coastland 72/2 (Dillan Preston 45)
Bay of Plenty Coastland 127 (Dillan Preston 38; Dominic Crombie 36) lost to Hamilton 131/5 (Iman Singh 2/16)