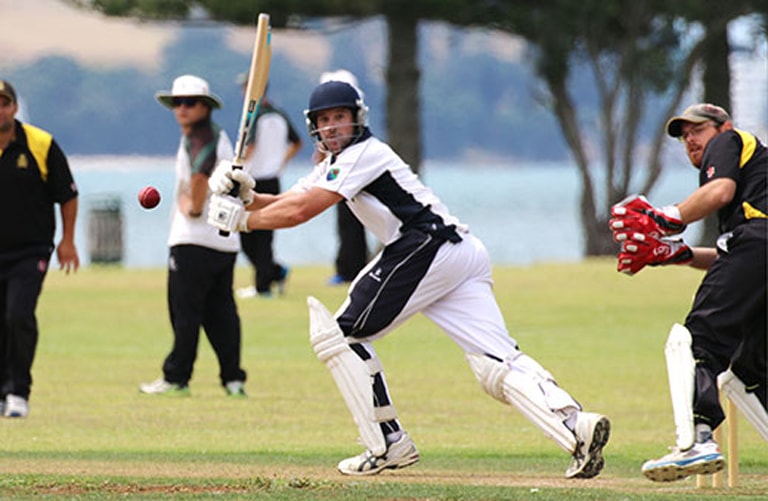 Henry Collier Hammers Twelve 6's Against Parnell at The National Club Championships
Napier Tech Old Boys Take National Club Championship Title
Eves Realty Greerton came out with all guns blazing against Auckland representative Parnell, in the playoff for fifth place at the National Club Championships, on Sunday 7th March 2019.
Sitting without a win at the week-long tournament to find the best club cricket side in the country, the ND champions posted another very large total, when they were bowled out for 281 in the 30th over of their turn at bat.
Bay of Plenty representative Henry Collier, made his intentions known from the first ball he faced, blasting 125 runs at an amazing strike rate with his score coming from just 51 balls. The Greerton opener smashed eleven 4's and an astonishing twelve 6's, in his 61 minutes at the crease.
The Greerton whirlwind batting attack continued, with Lee Watkins (38) Brett Hampton (31) Pip Thickpenny (25) belting the ball in excess of a run a ball, with Hamptons total coming from just 17 balls. Batting at nine, Paddy Davenport hammered a quick-fire 20 from just 12 balls faced.
The Auckland team, also took advantage of the smallest boundary lines at Cornwall Park, to hammer their way to victory with four wickets to spare. Parnell skipper Brad Roden led his troops to victory with a unbeaten 129. Greerton Captain Brett Hampton and Lee Watkins took two wickets apiece.
The wet weather that hovered around Cornwall Park for much of the week, resulted in the penultimate days play being abandoned, without a ball being bowled in anger on Saturday.
Day four saw another big Greerton total, albeit without success, as the Bay side had to concede defeat to Eastern Suburbs. A half century apiece to openers Nick Hendrie and Henry Collier, saw Greerton get to three runs shy of the magical three-hundred run mark, when they were removed for 297 in the 44th over. However as was the norm in the tournament, the big score held no fears for the chasers, who posted a three wicket win.
Top Dog at the tournament, was Napier Tech Old Boys who defeated Christchurch's St Albans in the title decider on day six, to take out the National Club title.
National Club Championships @ Cornwall Park, Auckland 2-7 April
Day Six – 7 April (Playoffs for tournament final finishing positions)
Fifth/Sixth Place: Eves Realty Greerton 281 (Henry Collier 125, Lee Watkins 38, Brett Hampton 31, Pip Thickpenny 25, Shane Wineti 23, Paddy Davenport 20) lost to Parnell 282/6 BP Rodden 129no; Brett Hampton 2/33, Lee Watkins 2/75)
Day Five – 6 April all games abandoned due to wet weather
Day Four – 5 April
Greerton 297 (Nick Hendrie 65, Henry Collier 51, Lee Watkins 38, Shane Wineti 29, Tom Renouf 27, Daniel Spencer 25, Josh Ormrod 23) lost to Eastern Suburbs 298/7 (JD Gibson 91; Brett Hampton 3/40, Dan Spencer 2/50)
Day Three – 4 April
Parnell 307 (BP Rodden 75, BJ Horne 61; Henry Collier 4/44, Mike Rowland 2/59) defeated Eves Realty Greerton 175 (Shane Wineti 38, Brett Hampton 33, Daniel Spencer 25; HJ King 3/48)
Day Two – 3 April
Eves Realty Greerton 349 (Henry Collier 77, Lee Watkins 77, Brett Hampton 68, Nick Hendrie 45, Shane Wineti 31; BE Soper 3/34, JI Mockford 3/57) lost to Green Island (Otago) 355/6 (BS Wilson 118, AJ Harris 10, C Viljoen 64no; Henry Collier 2/64
Day One – 2 April
Eves Realty Greerton 71 (MR Freer 4/11) lost to Napier Tech 72/0 (CK Leopard 39no, MJ Edmondson 27no)