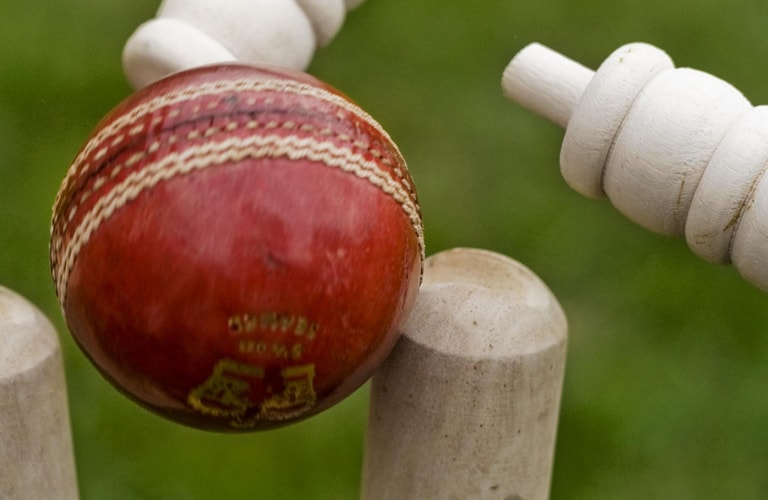 Grassroots Champions
Crispian Stewart
This time in Grassroots Champions we talk with Crispian Stewart, who is one of a sterling band of volunteers who have rejuvenated cricket in the Sulphur City in the last few seasons.
Brought up in the Hawkes Bay, Crispian graduated from junior cricket to selection for Central Districts Under 17's and 18's in the late 1980's. "Premier cricket in Hawkes Bay was very strong when I started playing for Taradale with and against players such as Martin Crowe, Mark Greatbach, Craig Spearman and Ian Smith". " I then went to Massey University in Palmerston North and enjoyed six wonderful seasons playing for the Freyberg CC and I also played for the Manawatu Development team". "A highlight of my cricket career was being selected for the New Zealand University team in 1992".
In 1997 and 1998 Crispian spent two seasons playing for Parley CC in Bournemouth in the UK. The experience paved the way for Crispian to take his son Cohen back to Parley CC in 2018, as their first junior international player (Google - Cohen Stewart UK Experience). " While we were there the Stewart family donated the 'Cohen Stewart' Cup, as a legacy for the clubs junior players which Cohen hopes to go back to present one day". "It was really special to play several games, alongside Cohen in some senior team games".
Over the years Crispian has moved into coaching and management roles. "In Hawkes Bay I coached Hawkes Bay Under 17 girls representative team to win the Central Districts tournament three years in a row". "I have also coached the Bay of Plenty Cricket Lakeland Year 7 to 10 sides".
"At a school and club level, I have coached both my son and daughter teams for the last seven seasons. Rotorua Junior Cricket has been a challenge, but by entering Western Bay of Plenty junior competitions, we have been able to provide our players with a much more enjoyable experience which I hope will keep them enthused in the game".
Crispian was appointed a Bay of Plenty senior representative selector and worked with outstanding Bay coaches James Pamment and Ben Williams, during unprecedented Northern Districts and Hawke Cup success's.
Arrival in Rotorua in 2004, saw the aspiring premier club cricket player given the number of long-time Bay of Plenty Cricket President and Life Member Alan Long, who sent him along to a Rotorua Central training. Rotorua had two other teams in Eastern Pirates and Rotorua Boys High School playing alongside Central in the Baywide cricket competitions. "I have to be honest, the Central team were pretty raw in my first year with them and I remember we were handed some heavy defeats at the hands of Cadets, Greerton and Mount Maunganui". "However I did see the potential and with some support both on and off the field, we decided to give the Baywide competition a real crack".
"I targeted our 2005/06 season as my retirement year and also wanted to win the Williams Cup for good measure". Cadets posted a very gettable target in the Final of around 130 - with Central nervous pressure seeing them fall twenty odd runs short of their target.
With unfinished business, Crispian returned the following season to again play and captain Central. "We managed to secure the support network around us in the 2006/07 season and had a very settled lineup. The team included Mark Chapman, Matt McLaughlin, Kane Spiers, Kane Vanner, Sheldon Kearns, Brad Gallon, Ben Watkinson, Danny Tauroa, Rob Dykes, Adam Aldworth, Kade Thompson and our overseas player Jayden Levitt". " We had no representative players or any stars which was reflected in our stats. None of us averaged over thirty with the bat, but our bowling attack was extremely disciplined and controlled"
"It was a true team culture and season long performances which saw us undefeated in the Williams Cup round robin fixtures. "We met Cadets in the semi-final and posted 209 on Smallbone (Park) which was plenty for our bowling attack to defend". "We managed to roll Mount Maunganui for 140 in the final, getting home with little drama, for the loss of just four wickets. An extremely proud Alan Long presented me with the Williams Cup which was a nice way to bookend my playing days in Rotorua".
In recent times Crispian's. energy has gone into the Rotorua junior game. "I am very appreciative of the various cricket bodies assistance in trying to keep the game going forward in Rotorua. There is also a neat network of a few but passionate parents alongside a rejuvenated Rotorua CA, which has been amazing in keeping the game going for our kids".
"Being part of the Geyer City promotion to Baywide cricket, has been a real highlight in providing meaningful and competitive pathways for our next generation of players". "I am back playing for the Geyser Mavericks in the Rotorua CA senior competition, alongside a couple of other fathers who play with our 14-17 year olds, to assist them with their transition to senior cricket".
"I do have a couple of other goals that I am keen to progress, which includes the growth and development of the girls game in Rotorua to support the Bay of Plenty Cricket girls cricket initiative" . "I would also like to assist in creating a meaningful Maori cricket program at both secondary school and senior level".
"Above all, I just love watching kids get enjoyment, personal growth and opportunities to experience within a team and social environment". " I do like observing how people react given different situations and cricket can provide that from ball to ball. I also tell those that may listen that cricket is not a game for the fragile, there will be fewer higher moments than lower ones, so celebrate the highs"
"The game has given me so much in travel, friends and memories and I feel that I owe the game a huge debt".