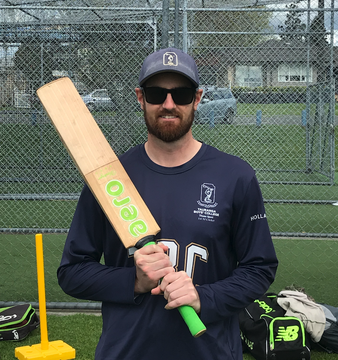 GRASSROOTS CHAMPIONS – Catching Up With Scott Curtis
In the first edition of Grassroots Champions in the 2020-21 season we catch up with Scott Curtis, who has packed plenty into his thirty-two years.
At just 15 years of age Scott, started coaching at his local club in Auckland for several years, before joining Auckland Cricket to deliver cricket sessions in primary schools. Two six months playing and coaching stints in the UK and studying "Sports Coaching" for four years, preceded a career change to coaching golf.
A Canadian OE in April 2019 came to an abrupt end in June 2020 due to Covid 19, with a return home. Appointment to coach and mentor the Tauranga Boys College Second XI in 2018, after four years of coaching golf - resumed this year on Scott's return from Canada, with appointment as the TBC Cricket Development Coach encompassing all the schools cricket teams.
One person who has seen Scott's ability to relate to the Tauranga Boys players is Humanities teacher and TBC First XI player/coach Tim Clarke. "In 2018 Scott had an instant impact on the boys and his calm yet competitive nature made him a valuable asset to our cricket pathwa".
"This time around, Scott has taken up the role of TBC Cricket Development Coach. to provide a more substantial pathway to the TBC First XI and then into club cricket and beyond". "He has been very successful in building relationships and organizing and taking meaningful trainings but more importantly has priotised the importance of having fun and contribution team performance. This will assist players to stay in the game and develop a passion for cricket"
What are your expectations as the TBC Development Coach - I don't have any expectations. I'm looking to continue to learn and grow as a coach as I give the players the best opportunity I can to get out of cricket what they want.
What is your philosophy in mentoring and growing young players - I care deeply about helping people become versions of themselves. I want to do this while inspiring a love for cricket in a fun, safe environment where they can be authentic.
What are the similarities and differences in coaching cricket and golf - Both are very traditional sports which have been coached similarly for years, mainly technique focused. I want to change the mold and improve cricket skill, and not just technique. When it comes to coaching though, we are still coaching people, and we have to find out how we can best help each individual and what needs they have. The cricket (or golf) stuff is the easy part, it's getting each player to be able to go out there with the freedom to be themselves that I love.
Tell us a little of your experience in bowling in the nets to some of the best players in the world- Between the ages of 17-22 I had the opportunity to bowl to the touring international teams at Eden Park. The only major team I didn't bowl to was South Africa, so I've been lucky enough to bowl to some of the best players in the world. Some highlights include bowling with Brett Lee in a net to Ricky Ponting, Adam Gilchrist, Damien Martyn, and Matthew Hayden. Bowling to Chris Gayle, Dwayne Bravo, and Brian Lara. Bowling with Ishant Sharma in an open wicket to Sachin Tendulkar and Virender Sehwag with 200 Indian supporters watching on.
Tell us about your two cricket trips to the UK and any characters and week known players that you met - The club I played for in Auckland growing up had a relationship with a club in the north of Wales. I decided to head over there my first year out of school as a gap year. I went over there as an 18 year old and, looking back now, I was too young. In my first game I scored a 30 ball 50 and took 3/20. It was the worst thing that could have happened because I put far too much pressure on myself and set my expectations too high and had a dreadful season. It was a tough time cricket wise but I loved being in another country and experiencing a different way of life. I met some great people but some of my best memories are with the animals I encountered at my job at the Welsh Mountain Zoo. I got to jump on the back of a 14ft Alligator to help move it to a new enclosure, I got to pet the snakes, and I was the subject of a practical joke played by a chimpanzee.
Two years later, in 2009, I went and played for a club in Portsmouth. The cricket went far better this time with the highlight being scoring 200* in a 45 over game (one of the scorebooks only said 196 so I choose to go with the other book, lol). I also took the opportunity to travel around Europe at the end of that trip too.
Tell us about your trip to Canada and your work and leisure experiences while there - In April 2019 I went to Vancouver, Canada on a working holiday. I got a job working at Grouse Mountain as both a Zipline Guide and a Ropes Course Guide. It was awesome getting to ride the 455m zipline over a 70m canyon 3 times per day taking people from all over the world on tours. In the winter I took a job up the mountain as a Snow Shoe Tour Guide. This was incredible, getting to walk through the snow at night and hearing nothing but snow fall from trees in the distance. I fell in love with Ice Hockey and ended up buying all the gear and I was all set for my first game when Covid shut everything down. I also started learning to cook at the start of 2020, but due to Covid the kitchen closed and after trying to stick it out for a couple of months I decided it was best to head back to NZ in June.
What are your leisure and current activities outside cricket - I enjoy all sports. I love playing and studying poker, it teaches great lessons in decision making and acceptance. I am trying to teach myself to surf. I'm a massive fan of movies and don't mind the odd video game either.