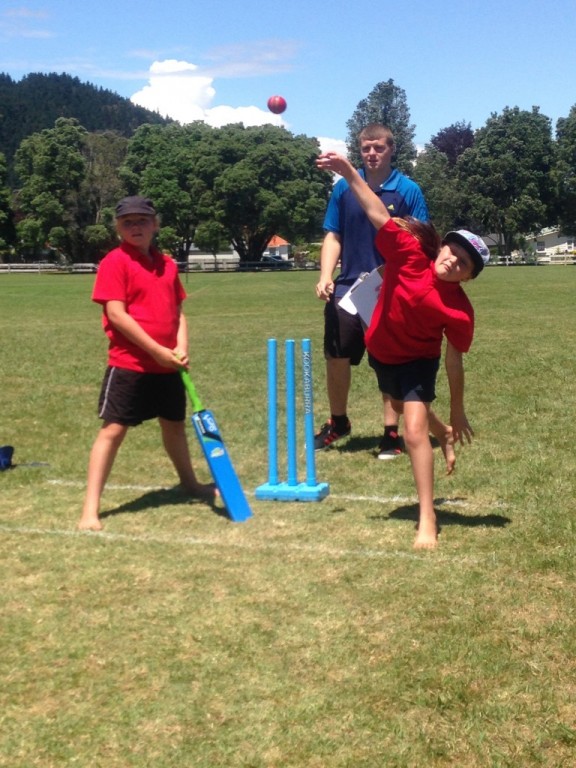 Cricket's Back at the Bay Oval a Huge Success
An enthusiastic bunch of young cricket stars of the future descended on the Bay Oval at Mount Maunganui to celebrate "Cricket's Back", which was a New Zealand Cricket initiative to celebrate the arrival of the new cricket season, on Saturday (17 October 2020) afternoon.
The day was put together by Bay of Plenty Cricket with strong support from Northern Districts Cricket. Cricket stars profile was provided by the attendance of Black Cap Dean Brownlie and ND all-rounder Brett Randell, who were a hit with the youngsters signing autographs and helping out at the activity stations.
Bay of Plenty Cricket Development Manager Scott Steward said "We wanted to celebrate summer and our cricket season by putting on a fun and exciting event for our community. We've had amazing support from ND Cricket, as well as New Zealand Cricket who have been supporting other Cricket's Back events around the country. It was great to see so many enthusiastic kids and their families here taking part, enjoying themselves and going home excited about cricket. We hope it is just the start of a great summer of cricket in the Bay".
The ND fan frame received plenty of attention with a line of youngsters waiting to have their photo taken. Another popular attraction, was the free raffle where the junior and potential cricket players had to bowl a ball into a net, to go in the draw for a Black Cap shirt and NZ Cricket giveaways.
The main attraction on the Bay Oval field was the blow-up cricket nets, where the youngsters were bowling to their contemporaries, who attempted to smash the ball out of the park. There was a ND speed radar operating for a while until disrupted by the wind.
Mount Maunganui Junior Cricket President Darryn Holmes who was on hand to assist at the nets said "there was a continuous line to have a go throughout the afternoon. I was impressed with the enthusiasm of the kids who hadn't played cricket before, who quickly picked up basic skills". "There was also plenty of talent on display from the young cricket players on hand".
Other activity stations included a Women's World Cup mini game promotion, along with a batting station. Colouring-in of cricket posters proved popular, with More FM promoting their companies involvement with the great game this summer.
Each young player and potential player, received a cricket goody bag which contained a activity booklet, cricket flyer and cricket stickers.
We will leave the last word to a helper on the day in Warren Leabourn, who summed up his reasons for the success of the day up in three words – enthusiasm, potential, skill.