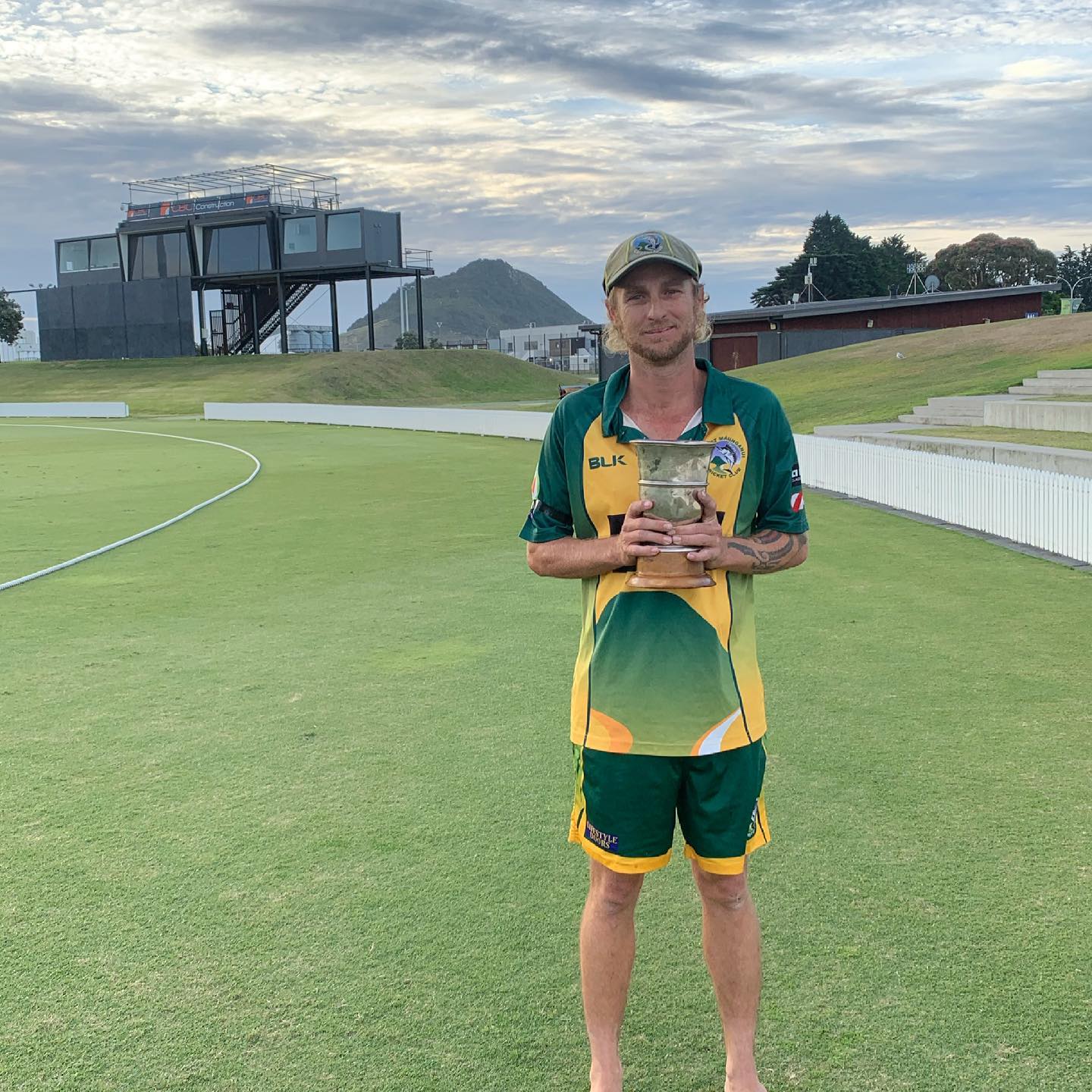 Catching Up With Nick Smith
Bond & Co Mount Maunganui premier player Nick Smith, announced his retirement from the Baywide premier game, after Mount Maunganui won the Versatile Tauranga Williams Cup on Saturday 27 March 2021.
Nick has been one of the real characters of Baywide Cricket for a remarkable twenty-four seasons. Whether giving some friendly advice to opposition bowlers or chirping away at the other sides batsmen with ball in hand - Nick never lost his cheeky grin or positive Mount Maunganui attitude, through his long and sterling Baywide career.
Tell us about where it all started in your junior cricket days?
I started my junior cricket as a 9 year old in Taupo, before moving to Mount Maunganui when I was 14, where I played for the Mount College fourth form team in the morning and for the First XI in the arvo. Tony Wellington was our 1st XI captain at the time, who was already affiliated with the Mount club, asked a few of the lads if we wanted to come down to club practice. We bowled for about two months straight, before making my debut in the nets with the bat, but it was all worth it, I was opening the batting for the premier side, three weeks later !!!
When did you make your premier debut all those long seasons ago.
Greerton at Pemberton Park in 1997. I got hit me first ball for four, second ball cleaned bowled Tom Morrison. Jimmy Pamment got us home with a 102 not out.
How many Williams Cup titles have you won and what did the 2021 victory mean to you?
Six Williams Cup wins. 2021 was right up there, as we hadn't won "The Old Bill" for quite a while.
Can you remember some of the players you played with and against in your first premier season?
James Pamment was my first captain, Northern Districts great Grahame Aldridge was in there, along with a few other Mount stalwarts in Blair Parlane, Derek Beard, Danny Sczygiol, Tony Wellington and Roger Child. When it came to opponents that first season, Grant Manners, Campbell Wilson and Andrew Dixon from Cadets. Leighton Hammond from Rotorua, Ben Williams, Mathew Hart, Bruce Shaw from Te Puke, Mitchell Sweetman Albion and Johnny Harris and Tom Morrison from Greerton.
Who is the best player you have played with and the best against?
Hard to single out a best player I've played with and against, as there have been so many great players that have come through the Bay pathway over the years. A number that spring to mind that I've had the pleasure of sharing the shed with over the years, are the likes of Jimmy Pamment , Grahame Aldridge, Daniel Flynn , Peter Drysdale, Bharat Popli, Brett Randell, Dale Swan and Mathew and Robbie Hart in Attrill Cup cricket to name a few. Against, includes Kane Williamson for Tauranga Boys and later Te Puke, Cadets Trent Boult, Lorne Howell and Corey Anderson and Peter Bocock Hamilton Marist reeling off a few.
Is there one particularly match that stands out for you over the 24 seasons?
The first and last Williams Cups will always be right up there, but the game vs Karaka in the ND Club Champs qualification just before lock down last year holds a special place in my heart. A beauty of a game it was, with a van ride home that was just as epic as the game itself.
Tell us of some of your special moments in the game?
Individual moments are getting a ton off 54 balls against Whakatane is right up there (dropped four times), along with a six-far in the Williams Cup final against Cadets a few years ago. Any other time that we won trophy's for the club were always special. One thing that the Mount club has always been good at in my time, is celebrating our success rigorously, when a trophy is won.
Tell us about some of the characters in the game that you have come across over the seasons?
There have been a few believe me. A couple that spring to mind, are the likes of, Danny "Mr Giggles" Sczygiol, even going through the drive through at Burger King, was a voyage with that man. But his cricketing ability was incredible, won us games multiple times, single handed. Andrew Hoogstraten was another, had more conspiracy's on and off the cricket field, like no other. Andrew in his prime was class, played for the Netherlands for a little bit there, great player.
What is your favourite ground and why?
The old Blake one will always be the home of cricket for me. It had a two-story club house , with a balcony, showers that were fit for kings and a ground that was very unique, in so many ways. Skinners corner, us Mounties use to call it, a 50 metre hit to the oval corner, if you were good at hitting to cow or whipping them as a lefty behind square, the treats were always there !! So many great memories on the old Blake One
What ground did you least enjoy playing on?
To be be honest it's a Mount ground. Once we lost the ol Blake one we got moved to the rugby grounds where they installed a wicket in between the rugby pitch's - and she was horrible. We're very grateful to be up the top now, that's for sure!
You played for the Bay of Plenty Development side - what stands out for you in your Development representative encounters.
Mark Jasper from Cadets, was my first Bay representative captain, a great man who unfortunately is no longer with us. I have some good memories from development games that have gone by. I remember opening the batting with Alex Yates from Whakatane against Northland in one game, where we put on an opening century partnership in 10-15 overs from memory. I was struggling down one end on about 15 or 20 odd with Yatesy around 90. Yatesy made the game look easy when he was in good touch.
Who is the best coach you have been associated with?
The current Mount coach to be honest in Russ Williams. Can't say enough about Russ, he knows his stuff.
What was your go-to saying on the field?
Haha, tough question to answer. Unfortunately I'm well known for some exaggerated chat on the park 'win or lose we're on the booze', comes to mind '.
Where to from here in cricket for Nick Smith?
A little bit of reserve grade next season, which gives me a chance to spend more time at my young boys games, come Saturday morning's, which was a huge factor in stepping down from the prems. More family time too, which will keep the wife at bay.