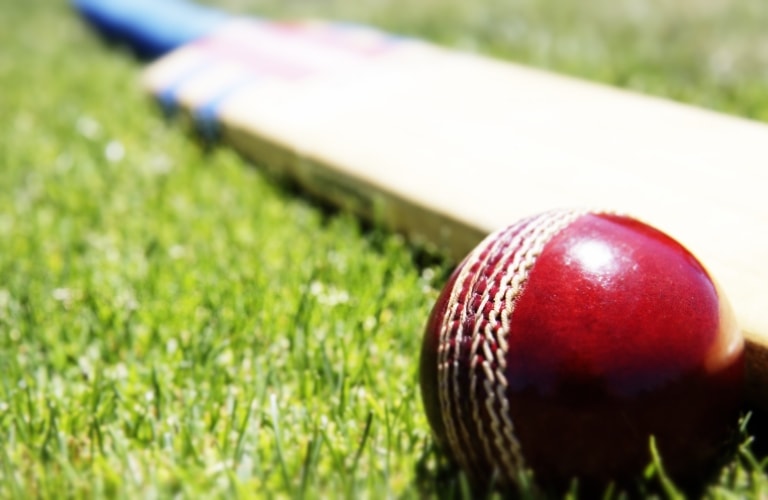 Big Century From Taylor Bettelheim Sets Up Tauranga Boys Victory Against Central Indians
Williams Cup Round Six Results
A big century from Bond & Co Tauranga Boys College captain Taylor Bettleheim, saw the Western Bay side come from off the pace in the Williams Cup standings, to defeat Bayleys Central Indians on Saturday (9 March 2019) - and give Tauranga Boys a chance to make the top four playoffs in two weeks time.
Tauranga Boys won the toss and backed their bowlers by electing to field, at Smallbone Park in the Sulphur City, in a game restricted by weather to 44 overs per side. Skipper Stephen Nicholls opened his side innings and set a good platform, before he was caught of the bowling of Taylor Bettleheim, for 52. Lovely Sandhu reached 49 before dismissal with Andrew Gibbs chiming in with a quick-fire 30 batting at nine, as Central Indians reached 221/9.
Tim Pringle, who has recently earned selection for the New Zealand Under 19 team, was the best of the visitors bowling attack taking three wickets for 20 runs. James Gatenby and player/coach Tim Clarke took two wickets apiece.
Taylor Bettleheim, was in magnificent touch as he carried his bat to 132 not, with his charges getting home with four wickets to spare. The youthful Tauranga Boys skipper posted his big total off 153 balls, cracking seventeen 4's, with victory coming with four balls remaining in his sides assigned overs. Batting at three, Tim Pringle blunted the combined sides bowling attack to post a solid 38 runs.
Defending Williams Cup titleholders Eves Realty Greerton, won a battle of attrition with New World Te Puke, in a match reduced to 33 over per team at Pemberton Park. Te Puke batted first, with Dan Price arriving at the crease when his side lost their first wicket with just 8 runs on the board. The Te Puke young man dominated his sides innings, to top score with 92, with the next best being 15 runs as the visitors posted 143/9.
Greerton had to work hard for the win points on offer, after being 48/3 and then 67/4, before they got home. Solid Greerton contributions with the bat came from Lee Watkins (45), Shane Wineti (31) and Umesh Ranaraja (25). Christian MacDonald was the best of the Te Puke bowlers with four wickets at a cost of 24 runs.
The match-up between Williams Cup front-runners Element IMF Cadets and long-time rivals Carrus Mount Maunganui, was abandoned without a ball being bowled, after a substantial amount of water got on to the pitch. However the washed out result had a silver lining for Cadets, who have taken Baker Cup (WBOPCA Challenge Trophy) honours for the season after relieving Greerton of the prize last weekend.
The Tauranga Boys College defeat of Central Indians at the weekend has introduced several scenarios to the Williams Cup playoffs in two weeks time.
The Rotorua combined team must beat Te Puke next week, to join Cadets in the coveted top two, to have two bites of the cherry in the playoffs. The form book would suggest that third placed Greerton will beat Lake Taupo CC to book a semi-final berth. With six points up for grabs, the final semi-final spot will likely be decided, by a winner-take-all battle between Mount Maunganui and Tauranga Boys College at Blake Park.
Williams Cup (Round Six) Results 9 March 2019
Bayleys Central Indians 221/9 (S Nicholls 52, L Sandhu 49, S Gibbs 30no, T Pringle 3/20, J Gatenby 2/26, T Clarke 2/33) lost to Bond & Co Tauranga Boys College 222/6 (T Bettleheim 132no, T Pringle 38; L Sandhu 2/45, A Gibbs 2/53)
New World Te Puke 143/9 (D Price 92; J Boyd 2/30) lost to Eves Realty Greerton 144/7 (L Watkins 45, S Wineti 31, U Ranaraja 25; C MacDonald 4/24, D Price 2/14)
Carrus Mount Maunganui v Element MF Cadets abandoned without a ball being bowled.
GM Painters Lake Taupo CC the bye.
Points Table (Provisional) Cadets 43, Central Indians 22, Greerton 22, Mount Maunganui 19, Tauranga Boys College 16, Te Puke 10, Lake Taupo CC 10.