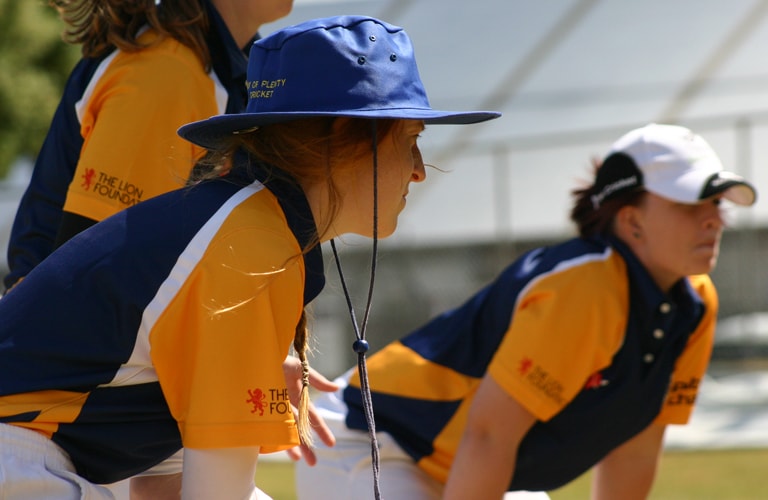 Behind the Stumps - Samantha Curtis
BOP Board member and Cricket Player
In this first edition of Behind the Stumps in the 2018/19 season, we chat to New Zealand White Fern Samantha Curtis who lives in the Western Bay of Plenty.
Where were you born and what schools were you been educated at?
I was born in Waitakere and went to Henderson Valley Primary, Bruce McLaren Intermediate and then Avondale College.
Where and when did you start playing cricket?
I started playing at Primary School from about 8 years old. I played in a mixed team where some of the kids were more interested in picking daisies than fielding and I think the highest individual batting score for the year was 9 runs…
Tell us about your senior cricket and your journey to playing for the White Ferns?
I started playing Women's senior cricket when I was 11years old for Waitakere Cricket Club and I've been playing for Waitakere ever since. I played age group cricket for Auckland from U14s all the way through to U21s and then played for Auckland Hearts. I was always a middle order bat but then one of our openers got injured and I got the chance to open. That's when things started clicking for me. Still, it wasn't until I turned 28, that I was included in the White Ferns squad and made my debut, and I hadn't been involved in the White Ferns or the NZ A/Emerging programme at all before that.
What provincial sides have you played for?
I played for the Auckland Hearts for 8 years and then I moved to Tauranga and have played for Northern Districts for the last 2 years.
When and where did you make your White Fern debut and give us a few recollections from that first game in the White Ferns?
It was 22 February 2014 down at Lincoln on my favourite batting track, the Bert Sutcliffe Oval against the West Indies. There were some pretty special moments that stand out from that day, hanging my shirt up in the changing room before the match, getting my cap presented to me by Debbie Hockley, taking that first step over the boundary rope wearing the fern and of course hitting my first runs for NZ. I remember being relieved when the West Indies won the toss they decided to bat – I knew I was going to open the batting and while I was excited to get out there, I was more than happy to go and field with the team first to work out some of my nervous energy. I didn't eat much lunch at all that day. And while it wasn't a debut innings for the record books, I managed to get into double digits and was left with a desire to get back out there and do it all again.
Tell us about the transition from provincial cricket to the White Ferns?
It's definitely a huge step up. Not in terms of the pace of the bowling but it's the ball performance in general, the consistency of the stock deliveries, and the subtlety of the variations. In Domestic cricket you can generally get away with seeing out the oppositions best two bowlers, knowing that you will be able to capitalize on the others. Also in Domestic cricket, even the better bowlers will often give you at least one loose delivery every over which relieves any pressure you might have been under. In International Cricket, you have to work much harder for your runs and take more risks to create run scoring opportunities off good deliveries, because you get far fewer bad balls. The standard of fielding is also much better internationally, so where you can sneak extra runs in Domestic cricket you just don't have that same opportunity against International opposition.
Tell us about what it is like to be in the White Ferns side?
I absolutely love being in the White Ferns environment. I mean it's the dream, right? You get to play the sport you love at the highest level for your country and you get to travel all around the world. I've been to places I'd never even consider travelling to including Bangladesh and United Arab Emirates and while playing in those conditions in particular were extremely challenging, I wouldn't trade them for being back in the office any day of the week!
What has been your most memorable moment playing for the White Ferns?
Either my debut or the first 50 I scored here in NZ against Pakistan.
Who have been the greatest influences on your cricket journey?
I hate to admit it but I was never a cricket fan growing up, I couldn't tell you the names of half of the Blackcaps and White Ferns who played while I was a kid although I've had the privilege of being coached by some of the great White Ferns – Katrina Keenan, Maia Lewis and Haidee Tiffen were all part my journey to making the White Ferns. In terms of my favourite player though, that's probably Sachin Tendulkar.
Tell us about the characters you have met playing cricket?
Every single team mate and coach has been a character. To single any out would be tough, although I actually met my husband Scott through cricket. We both played for Waitakere and our teams used to train together…extremely romantic (not really)!
What brought about you move to Tauranga?
My husband Scott got a job as a Golf Pro at Tauranga Golf Club. We figured I could be a lawyer and play cricket anywhere, plus the lifestyle in the Bay suits us, so it was a pretty easy decision to make.
Tell us about joining the BOPCA Board and why you accepted the challenge with such a busy playing and work schedule
I was approached as part of the drive by NZC to get more females into governance roles in cricket, and to be honest, I felt like I couldn't say no as we do need more women on Boards. Especially with how under-represented we are on Cricket Boards. The prospect of being the sole female on the Board was a little daunting to begin with but I'm happy to be able to give a slightly different perspective on things. And while I am extremely busy, I am managing to juggle it all so far!
Tell us a little more about Samantha Curtis – what was the last book that you read.
Harry Potter and the Cursed Child. I am a super fan and a Slytherin…
What are your musical tastes?
I love musical theatre! Is that a musical taste? Favourites are Wicked, Phantom of the Opera and Les Miserables. But in terms of music – Adele, Celine, MJ, Sam Smith, Queen, Elton John, Rolling Stones, Fleetwood Mac plus all the 90s pop!
Favourite Movie.
This is a tough one and one that is constantly changing…I'm a huge Star Wars fan so they're all up there. The Matrix was pretty mind-blowing when it was released watching it as a teenager. Who doesn't watch Love Actually every Christmas?! I also have a soft spot for Frozen, The Sound of Music and The Parent Trap (the Lindsay Lohan version!).
Favourite TV program.
Again, tough. But some that I love are Game of Thrones, Black Mirror, Downton Abbey, The 100, Alley McBeal, Boston Legal, Suits and almost every reality TV show.
Favourite Meal.
Butter chicken and passionfruit cheesecake.
Favourite Drink.
Coke no sugar. To offset the butter chicken and passionfruit cheesecake 