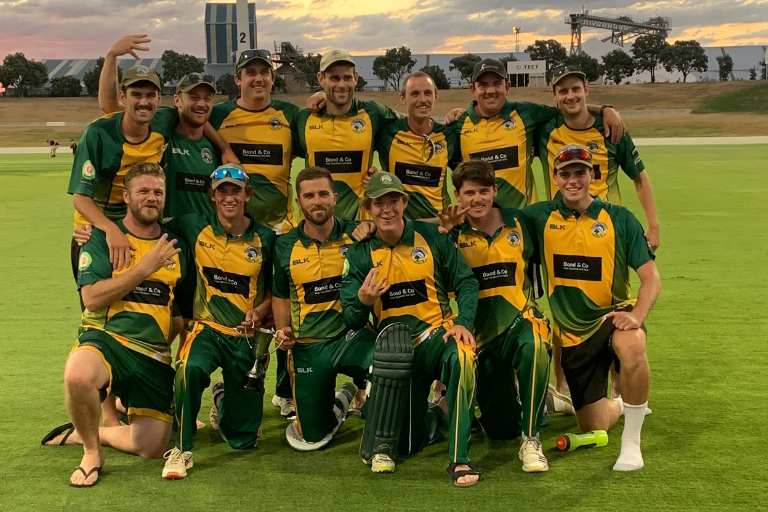 BAYLEYS BAYWIDE CUP T20 PREVIEW
The Bond & Co Mount Maunganui prems are going into the 2021/22 season with their 5th Bayleys Baywide Cup T20 championship on the trot in their sights.
With a couple of talented new recruits in Tom Bradburn (former Northern Districts under 19s player) and Oli White (former NZ under 19s player), coach Russ Williams says the team is excited to get stuck into the season.
"The boys are fizzing for another big season ahead, they really enjoy the T20 competition and are ready to defend a trophy that means a lot to this group and our club. It is a new season so a fresh start but we will be looking to build on the success we have had in the past."
Hot on the heels of Mount Maunganui for many years, Eves Realty Greerton will be looking to get their hands on the cup this season with some fresh blood in the team. The have also lost the experienced trio of Taylor Bettlehiem, Cameron Neal, Nick Hendrie.
Winners of the Cricket Express Lake Taupo Spring Invitational, The Flying Mullet Te Puke Prems, are looking strong and will be wanting to continue that form into the tournament. While semi finalists, Generation Homes Lake Taupo, will be hoping to better last seasons result to make it into the final. Habib Malik continues his great work as captain for the 4th year in a row and will also help out with coaching duties with the support of the senior players.
This year sees the Holland Beckett Law Tauranga Boys 1st XI loaded with a lot of fresh youngsters coming through the TBC Pathway, many will have their first opportunity to play premier cricket for the first time this season. Player/Coaches Tim Clarke and Charles Williams return for their 7th straight season and are keen to let the new boys adapt and grow as the season progresses.
Hamilton Cricket Representative Anish Desai has taken the reins of the Bayleys Central Indians as player/coach and will be hoping to take his team all the way after they were knocked out in the semis last season. Julian Danby will also be making his return as captain after a couple of years off. While the Craigs Investment Partners Geyser City Prems have rung the changes, adding 3 new players and losing former captain Cody Fell to the Central Indians. They have a huge amount of knowledge and experience on hand with former Nottinghamshire opening bowler, Kevin Cooper as coach.
Looking to improve on last years result (their first season playing in the Baywide Cup), the Papamoa Cricket Club have a fresh look with 6 players from last season departing and 5 newbies coming on board. They will be captained by Paul Inglis again this year.
The Element IMF Otumoetai Cadets have had a solid preseason, coming 3rd in the Cricket Express Lake Taupo Spring Invitational with Tim Pringle looking good with bat and ball. They are looking to build on last year with quite a few new recruits.
The Bayleys Baywide Cup starts this weekend (16th of October) with one pool of 4 and one of 5 (instead of the three pools of 3 from last season) and the finals will be held on the 29th January 2022.
TEAM DETAILS 2021-2022
Element IMF Cadets
Player Gains: Liam Collet, Isaac White, Te Manewha Rikihana, Peter Southey-Jensen, Danny Dixon, Blayne Neville, Chris Mascall, Blake Pentecost
Player Losses: Carson Wills, Donovan Deeble
Captain: Andrew Mascall
Coach: Sam Owen
Eves Realty Greerton
Player Gains: Nick O'Sullivan, Daniel Price, James Fendall, Israel Turner
Player Losses: Taylor Bettlehiem, Cameron Neal, Nick Hendrie
Captain: Lee Watkins
Bond & Co Mount Maunganui
Player Gains: Tom Bradburn, Oli White
Player Losses: Tim Tomlinson
Captain: Ben Musgrave
Coach: Russ Williams
Bayleys Central Indians
Player Gains: Anish Desai, Julian Danby, Cody Fell
Player Losses: Bharat Popli
Captain: Julian Danby
Coach: Anish Desai
The Flying Mullett Te Puke
Player Gains: Ben Vyver
Player Losses: Nil
Captain: Blair McKenzie
Coach: Pete Swan
Holland Beckett Law Tauranga Boys College
Player Gains: Tauranga Boys College pathway players
Player Losses: Liam Collett, Isaac White, Harrison Leach, Ben Vyver, Blake Pentecost
Captain: Darcy Collett
Coach: Tim Clarke
Generation Homes Lake Taupo CC
Player Gains: Luke Woods, Jesse Dowd
Player Losses: Nil
Captain: Habib Malik
Craigs Investment Partners Geyser Cricket Club
Player Gains: Goldendeep Brar, Guri Billing, Vinay Pathania
Player Losses: Cody Fell
Captain: Barry Hogan
Coach: Kevin Cooper
Papamoa Cricket Club
Player Gains: Harrison Leach, Nikhil Vishwanath, Jass Randhawa, Inder Mahal, Vishal Goundar
Player Losses: Ben Guild, Andrew Goldsmith, Matt Horne, Dan Smith, Guy Wilkins, Scott Finlayson
Captain: Paul Inglis