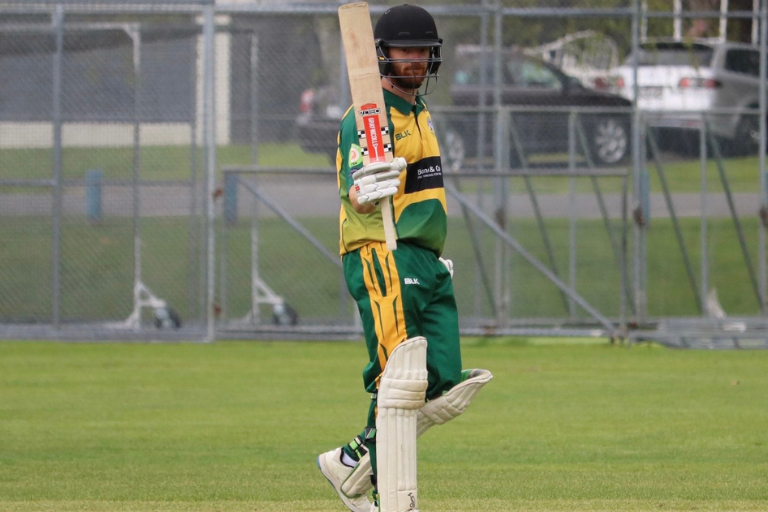 Bayleys Bay of Plenty Cup - Round 1 Highlights
Round 1 of the Bayley's Bay of Plenty Cup offered up some big hits and spectacular bowling in what is shaping up to be a tight competition.
Bayley's Central-Indians vs Gereration Homes Lake Taupo
It was the battle of the lakes when the Bayleys Central-Indians came up against the Generation Homes Lake Taupo CC.
Lake Taupo got off to a steady start with opening bowlers Rivers and How keeping the Central-Indians opening pair quiet. Two quick wickets saw Lovely Sandhu (52) and Nadeera Nawela (65) come together and put on a partnership of 126. Tight bowling from Captain Habib Malik (3-21) broke the partnership when he had Nadeera caught by Perry in the covers. Roger Urbahn bowled very well in partnership with Malik and kept the pressure on - bowling the Central-Indians out for 194. Urbahn finished with a well deserved 5 wicket haul.
The run chase didn't get off to the best of starts as Lake Taupo were 4/17 after 8 overs. A 55 run partnership Between Habib Malik (51) and Aditya Chandel (24) somewhat steadied the ship but the wicket of Chandel caught on the boundary opened the door again. Steady wickets fell at the other end meanwhile Malik composed a very well made 50 but didn't last too long after. AJ How chipped in with 26 but there was too much to do with very little wickets left behind, falling 52 runs short.
Bayleys Central-Indians - 194/10 - 54.2 overs (Nadeera Nawela 65, Lovely Sandhu 52; Lavely Sandhu 3 for 10, Stephen Nicholls 3 for 21)
Generation Homes Lake Taupo - 142/10 - 44.5 overs (Habib Malik 51, AJ How 26; Roger Urbahn 5 for 49, Habib Malik 3 for 21)
Bayleys Central-Indians won by 52 runs
Flying Mullet Te Puke vs Eves Realty Greerton
Winning the toss and deciding to bowl, the Flying Mullet Te Puke CC we witness to an opening partnership of 85 runs by Tom MacRury (58) and Jeet Raval (92).
Jeet Raval, on debut, did what he does best, batting long and anchoring the innings for a well composed 92 from 105. Tom Renoulf (50th match) did the damage at the end to get the team up to a very good score of 273, hitting 53 not out.

Jared Tutty and Brett Hampton opened the bowling for Greerton and bowled incredibly tight, restricting Te Puke to 20-2 after 14 overs. a solid 68 from Te Puke captain, Blair McKenzie, and a 6th wicket partnership of 72 between Stephen Crossan (60) and Josh Earle (18) wasn't enough with Greerton taking out a winning draw with max bowling and batting points with Te Puke getting to 203-9 off 56 overs.
Eves Realty Greerton - 272/10 - 53.1 overs (Jeet Raval 92. Tom MacRury 58, Tom Renouf 53 not out; Tim Burke 3 for 45)
The Flying Mullet Te Puke - 203/9 - 56 overs (Blair McKenzie 68, Stephen Crossan 60; Mikaere Leef 3 for 53)
Winning draw to Eves Realty Greerton
Craigs Investment Partners Geyser City vs Element IMF Otumoetai Cadets
The Element IMF Otumoetai Cadets won the toss and sent the Craigs Investment Partners Geyser City CC in to bat first. A first ball duck set the tone for the innings and high scores by Vinay Pathania (35) and Samuel Devereaux (27) helped Geyser City to 133 all out in the 42nd over.
Following on from his outstanding bowling performance in the first innings (4-22), Tim Pringle accumulated over half of the runs required for the Cadets with 78 not out off 74 balls as they comfortably chased down Geyser City's total in the 29th over.
Craigs Investment Partners Geyser City - 133/10 - 41.3 overs (Vinay Pathania 35, Samuel Devereaux 27; Barry Hogan 3 for 25)
Element IMF Otumoetai Cadets - 134/6 - 28.1 overs (Tim Pringle 78, Spencer Wills 23; Tim Pringle 4 for 22)
Element IMF Otumoetai Cadets won by 4 wickets
Bond & Co Mount Maunganui vs Holland Beckett Law Tauranga Boys College
It was a high scoring affair between Bond & Co Mount Maunganui and Holland Beckett Law Tauranga Boys College with Niven Dovey (69) and Ben Musgrave (65) putting on a partnership of 81 for Mount Maunganui in the first innings, posting a score of 272 for Tauranga Boys to chase down.
The run chase got off to a great start with the opening batsmen contributing 62 runs. However, the Mount bowlers were on fire and a 10th wicket partnership between Riley Brady (36) and Troy Barnett (13 not out) couldn't get Tauranga Boys over the line, falling 63 runs short.
Bond & Co Mount Maunganui - 272/8 - 49 overs (Niven Dovey 69, Ben Musgrave 65; Henry Conway 3 for 34, Dale Swan 3 for 59)
Holland Beckett Law Tauranga Boys College - 209/10 - 50.3 overs (Seb Heath 43, Riley Brady 36; Finn O'Brien-O'Loan 3 for 31)
Bond & Co Mount Maunganui won by 63 runs