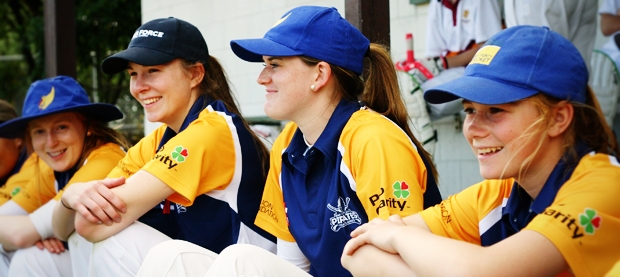 Bay Oval Double Attraction Next Wednesday
Trillian Trust Rainbow World Cup
The two spectrums of the women's cricket pathway will be on show at the Bay Oval at Mount Maunganui next Wednesday (14 March 2018).
A myriad of colour and plenty of laughter will emanate from the Bay Oval on Wednesday, with the staging of the sixth annual Trillian Trust Rainbow Cup for primary schoolgirls.
The Rainbow Cup, where many of the teams dress up in different colours reflecting the rainbow, is the culmination of the GoGirl Cricket program delivered by Bay of Plenty Cricket in Bay Schools, during term four and term one of the school year.
Thirty-one girls' eight aside teams, have registered to participate in the culmination of the NZ Cricket Western Bay of Plenty Go-Girl program. The GoGirl program is aimed at Year 4 - 6 girls, to draw the youngsters to the game by way of a standalone girl's introduction program.
At two o'clock on Wednesday, the scene will change when the New Zealand White Ferns square off with West Indies Woman, in game one of a two-match International Woman's Twenty 20 series on the Bay Oval.
There will be no better example of the NZ Cricket women and girls pathway, than the appearance at the Bay Oval next week, of White Fern Anna Peterson who learnt her cricket craft in the Western Bay of Plenty.
Anna progressed through the Bay of Plenty Girls under 15 and Secondary Schoolgirl sides, to ND age-group ranks, before making her Northern Districts Women's debut. During March 2012, Anna was selected for the New Zealand White Ferns and made her debut in an International Women's game against England.
The talented all-rounder who has posted 200 ODI runs and taken 16 wickets, grabbed the sporting headlines in February 2017, when she took a rare as hen's teeth hat-trick against Australia Women in a Women's International T20 game.
The second White Ferns verses West Indies Women, scheduled for a 7pm start at the Bay Oval next Friday (16 March 2018) - will attract a worldwide audience with the match being televised live on Sky Television.
White Ferns v West Indies Woman – International Twenty 20
Wednesday 14 March Game One – 2pm start
Friday 16 March Game Two – 7pm start