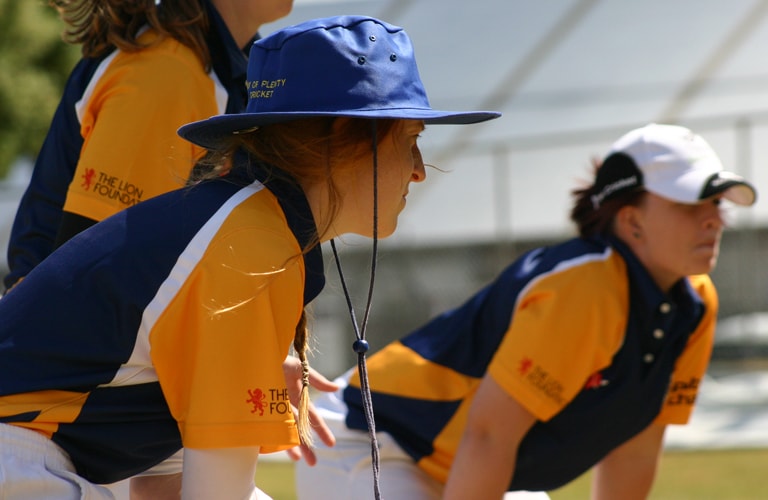 Bay Of Plenty Win First Bay Of Plenty Under 15 Girls Cricket Tournament
BOPCA Annual Review 2019-20
Girls representative cricket is alive and well in the Bay of Plenty with Bay Of Plenty Cricket participating in several girls age group tournaments during the season.
The hard work undertaken by BOPCA Womens Cricket officer Rebecca Yee in the last five years, is paying impressive dividends, with solid group of girls cricket players in the region.
The BOPCA women's pathway, starts with the GoGirl program, with many of the participants going on to Saturday morning junior cricket and the Bay of Plenty Junior NPL.
The first Bay of Plenty Cricket Under 15 Girls tournament, held at the Gordon Spratt Reserve over Labour weekend 26/27 October 2019 was an unqualified success, despite the strong winds that made conditions somewhat uncomfortable over the weekend.
Bay of Plenty took out the tournament, winning there three preliminary games and defeating the Cornwall Cricket Club representatives in the title decider. A feature of the tournament, was the highly competitive totals that were posted throughout the T20 competition.
The tournament winners posted four strong batting performances, setting solid targets in their three preliminary games. "There were several close games that went down to the wire, including the final, where Bay of Plenty chased down their target with just three balls to spare" said Rebecca Yee at the conclusion of the tournament. One Bay player to an indelible impression was Bay of Plenty wicket keeper Amelia Harvey was in top form with the gloves with six catches and one stumping.
Bay of Plenty opened their home tournament assignments with a 16 run victory over Manawatu. The hosts posted 125/4 with Aimee Unwin (30) and Jorja Neil displaying real talent at the batting crease. Led by three wickets from Tash Wakelin, the Bay of Plenty bowlers restricted their opponents to 109 for the loss of seven wickets.
Second up, the home team again batted first and reached an impressive 135 for the loss of five wickets against the Cornwall representatives, with Tash Wakelin top scoring with 43 runs. The Auckland side were restricted to 96/8 with Tash Wakelin taking her second three wicket haul.
The Bay side were in outstanding form in the morning encounter on day two, against Taranaki, reaching 114 without the loss of a wicket. Amelia Harvey top scored with 27 not out with Sabine Attrill and Tash Wakelin both retiring in the twenties. The Bay of Plenty bowlers played their part in their sides big win restricting Taranaki to 82/5.
Bay of Plenty took their tournament record to four from four victories when the defeated the Cornwall side in the tournament finale. Cornwall reached 112/5 in their twenty overs, with Bay of Plenty taking out the tournament title for the loss of four wickets. Mya Clarke top scored with 33 runs with Tash Wakelin also getting into the twenties.
While weather at the Kaipara Flats Girls Under 15 Invitation tournament 10/11 November was described as 'just awful' the Bay team returned home with two wins from their two completed matches. Bay of Plenty started with 10 overs against Northland on Sunday morning before the heavens opened and the game was called off.
On Monday morning, the Bay side completed the Northland game. Bay of Plenty had five overs left to bat after finishing the first day at 38/2 and went on to double their runs to finish at 82/5. Northland finished their 15 overs at 63/9, with Grace Kahle taking three wickets at a cost of just five runs. Captain Mya Clarke led the way with a wicket maiden in her first over.
Mya Clarke and Annie Nolan took two wickets apiece, in the Bay's second encounter against Waikato Valley, as the Valley side finished with 64 runs for the loss of eight wickets. Bay of Plenty got home for the victory reaching 79 for the loss of six wickets.
The Bay of Plenty Secondary Schoolgirls cricket team, can be well pleased with their performances at the annual ND tournament played at Fergusson Park in Tauranga 2-4 December 2019.
Two solid victories, a rained out encounter and two losses were the results of the Bay of Plenty representatives, who finished in fourth place in the 2019 ND competition.
Bay of Plenty Coach Rebecca Yee said "I am very happy with how the tournament went during the week, with some outstanding cricket played against quality opposition. It was great to see the improvement from last year, with both bat and ball". "Sarah Jane's maiden fifty turned into an 85 not out, which was a spectacular highlight. This current crop of players is very talented and we look forward to seeing them succeed at higher levels of cricket in the future."
First up, the Bay side defeated Counties Manukau in the first of four scheduled T20 games. Led by three wickets from Amy Clegg, Counties were removed for 65 runs. The home side got home with two wickets to spare, with Sarah Jane Stone top scoring with 27 runs.
The Monday afternoon match-up against Poverty Bay, resulted in Poverty Bay posting 144/7, then restricting the Bay team to 94/5. Individual Bay of Plenty highlights, were provided by Amy Clegg with another three wickets and Elle Archer who was 23 not out.
The Bay team simply batted Northland out of contention, in round three on Tuesday morning, as they posted 146/5. Batting at four, Sarah Jane Stone was in majestic form, anchoring her sides innings with an unbeaten 85 off just 72 balls, which included fifteen 4's and one big shot over the boundary. Elle Archer took two wickets as the team from the far north was restricted to 120/6.
A mini weather-bomb resulted in round four being abandoned. Bay of Plenty reached 106/4 with Waikato Valley at 40 without loss, when the weather intervened.
Bay of Plenty ended the tournament with a 30 over per side game against Hamilton in round five. The tournament hosts posted 114/7, with Amelia Harvey top scoring with 34 runs and Aimee Unwin posting 29 runs. Hamilton got home for the loss of four wickets.
At the tournament prize-giving, Bay of Plenty's Sarah Jane Stone was presented with the trophy for most runs (140) during the tournament.
The Bay of Plenty Cricket Prizegiving saw the Female Cricket MVP award presented to Mya Clarke. This season Mya stepped up into a leadership role, showing responsibility on and off the field, always demonstrating a positive attitude. She also scored her maiden representative half century. The BOPCA Most Valuable Player awards are awarded to 19/20 age-group representative players who have made the greatest contribution to their team both on and off the field.
BOPCA Girls Representaive Results 2019/20
BOPCA Girls Under 15 Invitation Tournament 26/27 October 2019
Day One 26 October – Round One
Bay of Plenty 125/4 (Aimee Unwin 30, Jorja Neil 25) defeated Manawatu 109/7 (Tash Wakelin 3/17)
Round Two
Bay of Plenty 135/5 Tash Wakelin 43, Elle Archer 29) defeated Cornwall 96/8 (Tash Wakelin 3/14)
Day Two 27 October – Round Three
Bay of Plenty 114/0 (Amelia Harvey 27no, Sabine Attrill 26 retired. Tash Wakelin 22 retired) defeated Taranaki 82/5
Final: Cornwall 112/5 lost to Bay of Plenty 113/4 (Mya Clarke 33, Tash Wakelin 24)
Kaipara Flats Girls Under 15 Invitation Tournament 10/11 November 2019
BOP 88/5 won against Northland 63/9 (Grace Kahle 3/5, Rachael Wahab 2/2, Annie Nolan 2/9)
Waikato Valley 76/8 (Mya Clarke 2/6, Annie Nolan 2/10) to BOP 79/6 (Macy Donaghy 15, Sabine Attrill 12no, Tazmin Rowland 12no).
ND Secondary Schoolgirls Cricket Tournament @ Fergusson Park, Tauranga 2-4 November 2019
Day One – 2 December 2019 (T20)
Round One: Counties Manukau 65 (Amy Clegg 3/6) lost to Bay of Plenty 67/6 (Sarah Jane Stone 27)
Round Two: Poverty Bay 144/7 (Amy Clegg 3/31) defeated Bay of Plenty 94/5 (Elle Archer 23no)
Day Two – 3 December 2019 (T20)
Round Three: Bay of Plenty 146/5 (Sarah Jane Stone 85no) defeated Northland 120/6 (Elle Archer 2/23)
Round Four: Bay of Plenty 106/4 (Elle Archer 44, Sarah Jane Stone 22) – Waikato Valley 40/0 game abandoned because of wet weather
Day Three – 4 December 2019 (30 over games)
Bay of Plenty 114/7 (Amelia Harvey 34, Aimee Unwin 29) lost to Hamilton 115/4