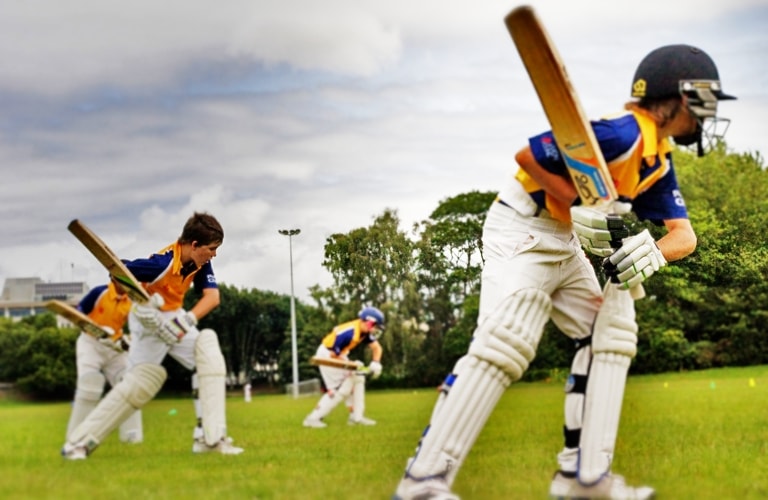 Bay Of Plenty Teams Finish Second and Fourth At ND Junior Secondary Tournament
2019 ND Junior Secondary Tournament 2 - 6 December
Bay of Plenty Coastland and Lakeland, can be well pleased with their five days of tournament play at the ND Junior Secondary Tournament played in Whangarei 2/6 December 2019.
Bay of Plenty Coastland, finished second in the ND Championship and shared the T20 title, with Bay of Plenty Lakeland finishing fourth in the championship rounds and third equal in the T20 competition
Hamilton batted first in the ND Junior Secondary title decider, setting the Bay side a big target of 273, to win the championship prize. A big Hamilton century did the damage, with Spencer Wills and Depp Bollinger taking three wickets apiece. Two half centuries, from Spencer Wills and Utsav Kumar wasn't enough, as the Bay side were bowled out for 214, to hand the Waikato team the championship title.
The opposition also batted first against Bay of Plenty Lakeland, with Counties Manukau being removed for 197, in the battle for third place. Lakeland put up a good fight, but the Counties bowlers eventually prevailed as the Bay team was dismissed for 154.
Day four semi-final action, saw Coastland defeat Counties Manukau to book a place in the title decider. The Bay side batted first and set a solid target, when they were dismissed for 232, in spite of being in some trouble at 71/5. Batting at six, Mathew Ward top scoring with 47 runs, with Finn O'Brien-O'Loan coming in a ten, posting 42 not out of just 27 balls.
Counties were bowled out for 145, some 88 runs short of their target, with Finn O'Brien-O'Loan taking four wickets.
Bay of Plenty Coastland put up a determined fight against Hamilton before tasting defeat. The Lakeland batsman were bowled out for 178, with Hamilton going on to a five wicket win. Individual honours were taken out by Logan Murray with 34 runs and Andrew Friskney who returned 2/24.
Both Bay of Plenty teams qualified for the ND Championship section on day three, with Lakeland defeating Northland and Coastland squeezing home by a solitary wicket from Waikato Valley, in 50 over action.
Day two in the far north, saw Bay of Plenty Coastland defeated Counties Manukau,while Bay of Plenty Lakeland lost to Northland. The Coastland win put them through to the T20 Final against hosts Northland, with the Lakeland boys locked into the third and fourth place playoffs with Waikato Valley.
Unfortunately wet weather resulted in the playoffs being abandoned, with Coastland sharing the title with Northland and the Lakeland representatives finishing in third equal position.
Four wins from four T20 games, were the Bay of Plenty results on the opening day of the ND Junior Secondary tournament. Bay of Plenty Lakeland repelled the challenges of the ND Invitation XI and also took the big scalp of Hamilton. Bay of Plenty Coastland posted a 133 run win against Poverty Bay and bowled Waikato Valley out 21 runs short of their target.
ND Junior Secondary Cricket Tournament @ Whangarei 2/6 December 2019
Day Five – 6 December
Championship Final: Hamilton 272 (H Trumm 130; Spencer Wills 3/39, Depp Bollinger 3/45) defeated Bay of Plenty Coastland 214 (58, Utsav Kumar 51, Harsh Patel 30)
Third Place: Counties Manukau 197 (Cohen Stewart 3/30, Logan Murray 3/31) defeated Bay of Plenty Lakeland 154 (Billy Syme 42, Loughlin Keaney 32)
Day Four – 5 December (Championship semi-finals - 50 over games)
Bay of Plenty Coastland 232 (Mathew Ward 47, Finn O'Brien-O'Loan 42no, Darcy Collett 31) defeated Counties Manukau 145 (Finn O'Brien-O'Loan 4/23)
Bay of Plenty Lakeland 178 (Logan Murray 34, Lachlan Balfour 27, Daniel Coster 26) lost to Hamilton 179/5 (Andrew Friskney 2/24)
Day Three – 4 December (50 over games)
Waikato Valley 172 (Finn O'Brien-O'Loan 3/45) lost to Bay of Plenty Coastland 176/9 (Darcy Collett 38, Dylan Fletcher 26, Jordy Smith 25)
Bay of Plenty Lakeland 131 (Daniel Coster 51) defeated Northland 127 (Cohen Stewart 3/24, Andrew Friskney 3/45)
Day Two – 3 December 2019
Round Three (T20)
Bay of Plenty Coastland 167/7 (Utsav Kumar 60, Riley Brady 28) defeated Counties Manukau 109/7
Bay of Plenty Lakeland 78 lost to Northland 81/5 (Logan Murray 2/8)
Round Four (T20 Finals) – Not played due to wet weather
Day One – 2 December 2019 (T20)
Round One
Bay of Plenty Coastland 194/5 (Utsav Kumar 56, Riley Brady 30) defeated Poverty Bay 61 (Spencer Wills 5/13)
ND Invitation XI 79 (Andrew Friskney 3/12) lost to Bay of Plenty Lakeland 80/2
Round Two
Bay of Plenty Lakeland 123/6 (Logan Murray 38) defeated Hamilton 114/9 (Billy Syme 3/14)
Bay of Plenty Coastland 184/6 (Spencer Wills 55, Darcy Collett 33) defeated Waikato Valley 164/5 (Depp Bollingford 3/23)