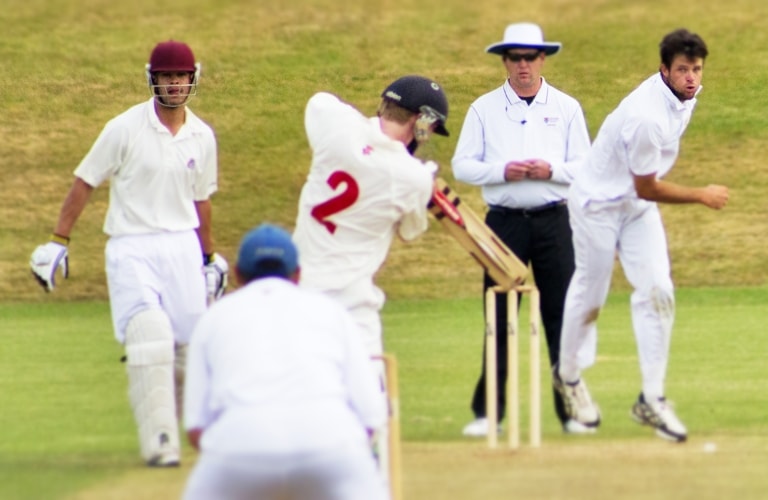 Bay Of Plenty Development Win Five From Six In Season Campaign
Season Review 2019-20
Bay of Plenty signed off their 2019/20 ND Development campaign in spectacular fashion, when they set Waikato Valley an almost impossible target at the Tauranga Domain on Sunday 1 March 2020. Niven Dovey and Daniel Price took absolute control to blast a century apiece, in a record breaking season, where the Bay of Plenty second eleven posted five wins from six encounters.
The 143 run Waikato Valley victory capped a sterling season, where the Bay of Plenty Development team finished second in the ND Development Championship - and scored a big eight wicket win over their Hawkes Bay counterparts, in the annual inter-provincial fixture in Taupo.
Five 2019/20 Development centuries set a new mark in batting excellence, surpassing the three Development tons posted by Ben Musgrave, Julian Danby and Alex Yates, in the 2012/13 cricket season. Taylor Bettelheim, set the ball rolling, with a unbeaten one hundred runs against Hawkes Bay, with the eighteen year old going on to add two senior representative three-figure scores to his season total.
Daniel Price and Jacob Logan, posted centuries two and three against Counties Manukau deep in the heart of enemy territory at the Karaka Oval, before Niven Dovey and Daniel Price went on a batting blitzkrieg in the match-up with Waikato Valley at the Tauranga Domain.
BOPCA Development Team (appearances in brackets) 2019/20
Taylor Bettelheim (4) Fergus Lellman (2) Jacob Logan (4) Marcel Collett (4) Niven Dovey (5) Daniel Price (6) Dominic Crombie (3) Josh Earle (5) Iman Singh (3) Cameron Ingram (5) Craig Baldry (3) Andrew Mascall (3) Dillon Preston (2) Cameron Riley (4) Habib Malik (4) Finn Dempsey (3) Henry Conway (2) Blair McKenzie (4) Ben Vyver (2)
Coach: Russell Williams Manager: Shaun Riley
BOPCA Development Team Season Milestones 2019/20
Most Runs Daniel Price 316 runs
Most Wickets Josh Earle 12 wickets
Centuries
145 Niven Dovey v Waikato Valley
137 Daniel Price v Waikato Valley
116 Daniel Price v Counties Manukau
115 Jacob Logan v Counties Manukau
100no Taylor Bettelheim v Hawkes Bay
Bay of Plenty Development Team Coach's Report
"It was another great season for our Bay of Plenty Second XI. We had one slip up along the way, with a poor batting performance from us, against a very good Hamilton side. During the rest of our season someone got a big score and we bowled well as a group, which was an improvement from last season".
"I have said it before and I say it again, this young group is constantly getting better, the players going up into the men's side are performing, which is all that we can ask. The Development statistics tell us that the current guys are working it out in the early stages of their cricket careers".
"Between 2007 and 2017, there were five centuries in 10 seasons. In the last two seasons we have had six centuries, five of those this season. I very rarely look at stats like these, but when I was made aware of it, I thought this is a great reflection of what these young men achieved".
"All in all, another very enjoyable season with some very good individual performances - we couldn't hang on to our trophy but we gave it everything. Bring on 2020/2021 season".
Russell Williams BOPCA Development Coach
BOPCA DEVELOPMENT TEAM REVIEW 2019/20
Few could have imagined the devastation that Bay Development Captain Niven Dovey and Daniel Price, would cause with their willow weapons, when the pair came together with the home team at 40 for the loss of two wickets, against Waikato Valley in the last ND Development fixture of the season.
A remarkable 290 run partnership, batted their opponents out of the encounter, with both young men going on to big centuries. Niven Dovey produced a genuine captain's knock, with 145 runs at a strike rate of 122 (per one hundred balls) which included 18 boundaries.
Dan Price was in equally dominant form blasting 137 at a little better than a run a ball, with seven 4's and seven big heaves over the boundary, in his turn at bat. Price's three figure score was his second for the Bay Development side this season, after belting 116 against Counties Manukau.
The Waikato Valley highest score of 49 runs, told the tale of the demise of the visitors batsmen as they attempted to chase down the monumental target, being removed for 230.
Bay of Plenty opened the Basil McBurney Trophy title race, by defeating Northland at the neutral venue provided at Bledisloe Park in Pukekohe. The Bay batsmen posted 189 runs, with New Zealand Under 19 representative Fergus Lellman top scoring with 47 runs. Led by three wickets from Lellman, the Bay of Plenty bowlers removed their opponents for 155 to claim a 24 run victory.
Second up, the Bay of Plenty Development representative reversed the previous seasons sole defeat, when they cruised to a ten wicket win over Poverty Bay. The visitors were bowled out for 111, with Dominic Crombie leading the way with three wickets at a cost of 20 runs. Fergus Lellman (55no) and Taylor Bettelheim (49no) wasted little time in propelling their side to the win points on offer, with victory coming in the 18th over.
The inter-provincial game against Hawkes Bay, on the 12th January 2020 at Owen Delany Park in Taupo, provided the ideal lead-in to Bay of Plenty's remaining three ND Development competition matches. Hawkes Bay set the Bay side a very solid target after they were removed for 236, with Josh Earle (4/41) and Jacob Logan (3/34) starring with the ball. While Taylor Bettelheim posted a neat century, he received outstanding support from Daniel Price and Jacob Logan who both scored half-centuries, in their teams eight wicket win.
The Bay of Plenty Development road trip to square off with Counties Manukau on Sunday 2 February 2020, produced a Bay of Plenty second eleven batting record score (until surpassed in the Waikato Valley encounter), in a game where an incredible 600 runs were posted.
Bay of Plenty won the toss and went in to bat, with openers Jacob Logan and Andrew Mascall putting on an opening stand of 104, before Andrew was dismissed for 42. The action was just hotting up, when Daniel Price joined Jacob Logan in a third wicket partnership.
The Bay pair put on 144 runs in an action-packed alliance, before Jacob was the first to go with 115 runs to his name, which included fifteen 4's. Daniel continued his whirlwind attack on the opposition bowlers, to smash 116 off just 88 balls, with nine 4's and five mighty 6's.
When Price was dismissed, the Bay of Plenty Development representatives had reached 322/7, with four balls remaining in their turn at bat.
However Counties Manukau weren't deterred by the mammoth target of 328 and to their credit, turned the game into an absolute run-fest. However led by Lake Taupo CC bowler Habib Malik (3/56) and Jacob Logan (2/53), the Bay side bowled Counties out 24 runs short of victory with just one ball remaining in the encounter.
The Bay second eleven's only stain of defeat came against Hamilton who went on the win the ND Development title. Josh Earle was the shining light in the Bay bowling ranks, with four wickets for 49 runs, as the Waikato region side posted 267/8. Bay of Plenty fell well short of their target when they were dismissed for 159, with Jacob Logan top scoring with a gritty 44 runs, in the face of some very attacking bowling.
Bay of Plenty Development Team Results 2019/20
ND Development Competition @ Bledisloe Park, Pukekohe 17 November 2019
Bay of Plenty 189 (Fergus Lellman 47, Niven Dovey 27, Marcel Collett 21) defeated Northland 155 (Fergus Lellman 3/22, Jacob Logan 2/19, Iman Singh 2/30)
ND Development Competition @ Bay Oval, 1 December 2019
Poverty Bay 111 (Dominic Crombie 3/20, Daniel Price 2/20, Josh Earle 2/25) lost to Bay of Plenty 115/0 (Fergus Lellman 55no, Taylor Bettlelheim 49no)
ND Development Competition @ Karaka Oval 2 February 2020
Bay of Plenty 327/8 (Daniel Price 116, Jacob Logan 115; Andrew Mascall 42) defeated Counties Manukau 304 (Habib Malik 3/56, Jacob Logan 2/53)
ND Development Competition @ Bay Oval 16 February 2020
Hamilton 267/8 (Josh Earle 4/49, Niven Dovey 2/51) defeated Bay of Plenty 159 (Jacob Logan 44, Taylor Bettelheim 34)
ND Development Competition @ Tauranga Domain 1 March 2020
Bay of Plenty 373/8 (Niven Dovey 145, Daniel Price 137, Andrew Mascall 32; K Thomas 5/52) defeated Waikato Valley 230 (Habib Malik 3/57, Josh Earle 2/35)
Inter-Provincial Development match @ Owen Delany Park, Taupo 12 January 2020
Hawkes Bay 236 (Josh Earle 4/41, Jacob Logan 3/34) lost to Bay of Plenty 239/2 (Taylor Bettelheim 100no, Daniel Price 60no, Jacob Logan 59)