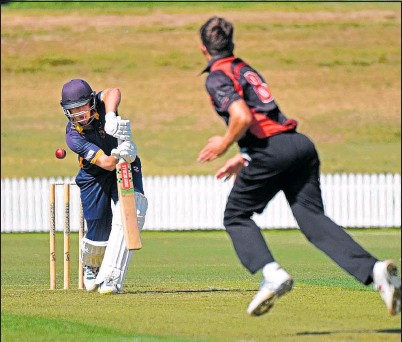 Bay of Plenty Cup - Round 4 Preview
A Rotorua local derby, will take place in the fourth stanza of the Bay of Plenty Cup on Saturday (14 November 2020), when Bayleys Central Indians square off with Craigs Investment Partners Geyser CC, at Smallbone Park.
The two sides come from different spectrums of Baywide premier cricket. Central Indians date back to the late 1940's and 1950's, where the Central first eleven were a dominant force in regional premier cricket, with Rotorua Indian Sports also a long established cricket club. Geyser are one of the newcomers on the block in the premier ranks having joined the Baywide competition last season.
The weekends local cricket battle will see friendships temporarily forgotten on the field, as mate goes against mate to pick up the win points on offer - and bragging rights until the two sides meet again later in the season.
Two other close neighbours to square off on the weekend, are 2020 Baywide debutants Papamoa, who will host Bond & Co Mount Maunganui at the Alice Johnson Oval in Papamoa. The new recruits face a big challenge against the current Baywide champions of champions. Last weekend the old firm of Peter Drydale and Ben Musgrave anchored the Mount victory over arch rivals Element IMF Cadets.
This weekend, Cadets have home track advantage against Holland Beckett Law Tauranga Boys College at the Tauranga Domain. The Tauranga Boys side are sure to look to one of the Bay of Plenty Cricket young guns, in Tim Pringle, against Cadets. Last weekend Pringle blasted the highest score of the season with 118 runs and then took three wickets for good measure.
A long-term rivalry will be resumed, when Eves Realty Greerton pay a visit to the Te Puke Domain to take on the the Flying Mullet Te Puke First X1. Both sides have plenty of firepower to burn with both bat and ball. The encounter will match up two century makers from last weekend, with Te Puke keeper Blair McKenzie squaring of with Greerton run maker Taylor Bettelheim, in the chase for batting honours on the day.
Bay of Plenty Cup Draw -14 November 2020
Element IMF Cadets v Holland Beckett Law Tauranga Boys College, Tauranga Domain; Papamoa v Bond & Co Mount Maunganui, Alice Johnson Oval; Flying Mullet Te Puke v Eve's Realty Greerton, Te Puke Domain; Bayleys Central Indians v Craigs Investment Partners Geyser,Smallbone Park; Generation Homes Lake Taupo the bye.
Points Table: Mount Maunganui 19, Greerton 19, Cadets 13, Te Puke 12, Central Indians 12, Tauranga Boys College 9, Papamoa 6, Lake Taupo 6, Geyser 5.
On Mon, 9 Nov 2020 at 11:35 AM, Barry Leabourn <leabourn738@gmail.com> wrote:
Completed Cadets v Mount Maunganui Result
Element IMF Cadets 191/9 (Andrew Mascall 55, Donovan Deeble 47; Dominic Crombie 3/34) lost to Bond & Co Mount Maunganui 198/7 (Ben Musgrave 84, Peter Drysdale 56; Donovan Deeble 4/36)