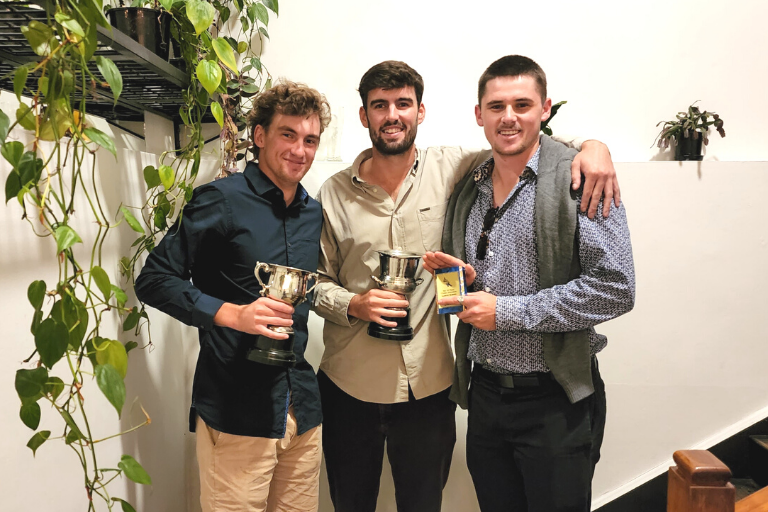 BAY OF PLENTY CRICKET CELEBRATES THE 2021/22 SEASON
With another season coming to an end, it's time to acknowledge some of the outstanding contributors to Bay of Plenty Cricket during the 2021/22 season.
Player of the Month
October – Tim Pringle
Tim started the season off in fine form, taking 12 wickets and scoring 265 runs in the first month of the season.
Scores of 53 not out, 56, 78 not out, 77 not out were supported by figures of 4 for 6, 3 for 8, 4 for 22 and 2 for 36 across both T20 and The Bay Cup. Setting Pringle up for a huge season.
November – Mayura Gallapaththi
8-28 vs Greerton CC on Nov 20, 2021
A truly phenomenal performance for the Cadets stalwart, Gallapaththi tore the Greerton line up apart, taking 8 wickets in just 9.5 overs. Mayura removed the top 3 batters in his first 3 overs, before taking the final 5 wickets of the innings.
December - Blair McKenzie
Scores of 85, 80 and 86*
Mckenzie dominated the lead up to the Christmas break, with 3 scores in the 80's across the month. Scores of 80 against Tauranga Boys College followed by 86 not out the following day for the Tauranga Coastal Attrill Cup team was then followed by a 85 against Cadets in The Bay Cup.
January - Tai Bridgman-Raison
342 runs for the month.
Bridgman-Raison started the 2022 Williams Cup with a bang smashing 342 runs in a month. A season total many players would be happy about.
Tai started with a 61 against Cadets, before hitting back to back hundreds against old foes, Greerton and Central-Indians. Tai rounded out the month with a brisk 41 not out against Papamoa.
February – Peter Drysdale
129 not out vs Lake Taupo CC on Feb 26, 2022
Drysdale notched up another 3 figure score for his beloved Mount Maunganui of February 26, when he carried his bat for the entire innings against Lake Taupo CC. No one else in the match managed a score over 45, which just showed how good this performance was.
March – Andrew Mascall
It was a big month for Mascall in many ways. He managed to put together scores 60 and 92 in The Williams Cup, before getting a call up and making a well-deserved debut for The BOP Mens team. Not only did he make his debut, but Andrew went on to lead the team with a stellar knock of 81 against Counties. To cap off a huge month, Andrew captained Cadets to the Williams Cup title on the last weekend of March, when Cadets won a hard fought final against Central-Indians.
Individual Milestones
5 or more wickets
Tim Pringle 8-71 against Waikato Valley and 5-53 against Northland
Community Club Awards
McNaughton Trophy - R & A Sangha Cricket & Punjabi Club
Another outstanding McNaughton Trophy saw 16 teams take part in a knockout, winner takes all competition. The winner was found under the lights at The Bay Oval. A hard fought final between R & A Sangha and Hawks Cricket Club saw the R & A Sangha Cricket and Punjabi Culture Club emerge victorious.
This is R & A Sangha's 5th McNaughton Trophy title
Bay of Plenty Plate - Tauranga Boys College
Starting the season with a fresh faced team, Tauranga Boys showed they can compete at the highest level and finished the season strong, vying for the top 4 in the Versatile Williams Cup and ultimately coming 5th.
The Bayleys Bay of Plenty Cup - Mount Maunganui CC
The Bay Cup took on a new format this year, with the teams battling it out using the 60/50 format, with batting, bowling, outrights and draw points all available.
After an unbeaten campaign the winners of The Bay of Plenty Cup are Mount Maunganui Cricket Club
This is Mount Maunganui's 8th Bay of Plenty Cup title.
Baywide T20 - Otumoetai Cadets CC
The Baywide T20 competition was played across 2 pools, with weekend and midweek games featuring across the season. Another great competition culminated in a final at Blake Park between Te Puke CC and Otumoetai Cadets. The match was in the balance until the bitter end. But the eventual champions were Otumoetai Cadets Cricket Club
This is Cadets 2nd Baywide T20 title.
The Versatile Williams Cup - Otumoetai Cadets CC
The Williams Cup is the one all the clubs want to win. With winners dating back to the 1932, Bill as the cup is affectionately known is steeped in history.
The final took place in Rotorua, after a week of rain. In a slightly shortened final, Otumoetai Cadets made first use of the surface, with standout half-century contributions from Fergus Lellman and Tim Pringle getting them to a competitive 195-9 off their 43 overs.
Central-Indians made a solid start to their run chase, but regular wickets, and tight bowling from The Cadets spinners made the difference. Outstanding contributions from Jono Boult, with 3 wickets, and Spencer Wills with 4 wickets, saw Central-Indians bowled out for 111 and the title going to Otumoetai Cadets CC
This is Cadets 12th Williams Cup title
Hart Family Cup - Otumoetai Cadets CC
With a second place finish in the Bay Cup standings, followed by wins in the Baywide T20 and Williams Cup, the Champion Club of the year, and recipient of the Hart Family Cup is Otumoetai Cadets
This is Cadets 5th Hart Family Cup
Community Service Awards
In recognition of outstanding contributions to community cricket
Deb Staddon – Taupo Cricket
Deb has served on both the Taupo and Taupo Junior cricket committee for the best part of a decade. She has brought a professional and balanced approach to cricket in the region ensuring there is a community and family focus to the way cricket is conducted. Having this approach is certainly one of the factors to the growth of junior cricket in this region over her time.
She has served in many roles, most notably as long standing Treasurer and as a champion of CricHQ scoring.
Deb is one of the most positive promoters of cricket in the Bay of Plenty region, always quick to share her enthusiasm for Taupo cricket development, the potential pathways for junior cricketers and help anyone get started with Cricket.
Alan Cotter Trophy for Services to Cricket – Don Warner
Don has played a huge role in growing and supporting cricket in the Bay of Plenty region for over a decade and has made an impact on so many. In his own words; "My aim has always been to ensure players, parents, coaches and administrators are all involved in Cricket with a huge smile on their face!"
Notable Achievements
Northern Districts U19's
Male
Ben Vyver, Niven Dovey, Liam Collet, Spencer Wills
Female
Elle Archer, Tash Wakelin, Amelia Harvey, Jorja Neill, Miah Smith
Female Development Squad
Nensi Patel
Kate Anderson
NZ Development
Ollie White
David Hancock
Ben Pomare
Tim Pringle
NZXI
Tim Pringle
First Class Debut's
Tash Wakelin
Fergus Lellman
Peter Drysdale
Brendon Bracewell Most Promising Player and Cricket Express Scholarship - Tash Wakelin
Wakelin made her NDCA senior debut this season, playing 5 games for the province.
Senior Awards
Derek Beard Bowling Cup
Tim Pringle - 18 wickets
Mike Wright Batting Cup
Peter Drysdale 145 runs
First Class Player of the year
Trent Boult
BOP Player of the Year
Tim Pringle
Bay of Plenty Cricket would also like to acknowledge and thank their sponsors; Craigs Investment Partners, Cricket Express, Bayleys BOP, Versatile Tauranga and Holland Beckett Law for their continued support and contribution to cricket in the region.