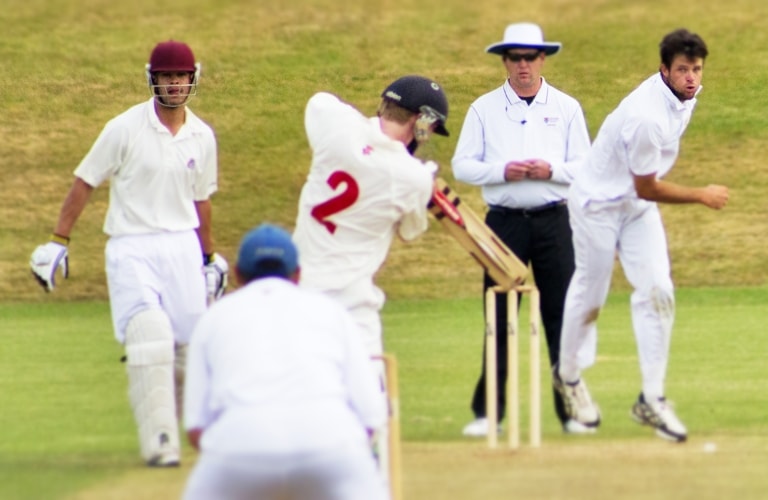 Bay Of Plenty Claim First Innings Points Against Counties Manukau
Fergus Hickey Rose-bowl Review 7th - 8th March 2020
Craig's Investment Partners Bay of Plenty opening batsman Taylor Bettelheim, led his side to a big first innings points advantage against Counties Manukau, when he blasted a century in a Fergus Hickey Rosebowl match played 7/8 March 2020.
Bay Captain Ben Musgrave won the toss and asked the hosts to bat at Mountford Park, deep in enemy territory in Manurewa. The decision looked to have backfired with Counties posting 129 for the loss of a solitary wicket.
The Bay of Plenty bowlers then went to work to wreck the Counties innings, taking nine wickets at a cost of 21 runs. Bay attack bowler Chris Atkinson grabbed a four wicket haul, including reaching a milestone 50 Bay of Plenty wickets. Coming on as the Bay's fifth change, Peter Drysdale also took four wickets with Tim Pringle returning 2/32, as Counties were dismissed for 150.
The Bay of Plenty opening partnership of Peter Drysdale and Taylor Bettelheim put on an opening stand of 102, before Drysdale was removed for 48. Bettelheim continued on to work the ball around Mountford Park to blast 130 runs, which included nineteen 4's, finishing his Fergus Hickey Rosebowl season with 390 runs to his name.
Blair McKenzie (35) and Niven Dovey (33) both made useful contributions, with Dovey having a quick fire knock off 21 balls. Bay of Plenty skipper Ben Musgrave brought up the second all-time milestone in the match - with his 32 runs, bringing up 1000 runs since his debut against Hamilton in 2014.
Bay of Plenty declared their innings closed, with 335 runs on the board for the loss of nine wickets, in order to chase an outright victory. Bay of Plenty Coach Charles Williams said "It was a selfless Bay of Plenty batting attack where every one of them went out to bat with their team interest ahead of their own". "In three sessions we managed to take nine wickets and then score 355 runs to chase the goal of an outright win. We couldn't have got into that position without a team first attitude".
Counties Manukau batsman Sam Varcoe posted the second century of the Fergus Hickey encounter, hitting 130 runs, as the match finished with Bay of Plenty claiming first innings points with the home side reaching 181/1. "Counties batted very well in their second innings but we also had our chances to make inroads but we just couldn't take them" said Coach Williams.
ND Fergus Hickey Rosebowl @ Mountford Park, Manurewa - 7/8 March 2020
Counties Manukau 150 (SS Varcoe 72, LC Williamson 58; Chris Atkinson 4/55, Peter Drysdale 4/28, Tim Pringle 2/32) & 186/1 (SS Varcoe 130)
Craigs Investment Partners Bay of Plenty 335/9 (Taylor Bettelheim 130, Peter Drysdale 48, Blair McKenzie 35, Niven Dovey 33, Ben Musgrave 32; MW Marconi 3/53, HB Dickson 3/72)
Result: Bay of Plenty won by first innings points
Bay of Plenty Cricket All-Time Milestones
Chris Atkinson - 50 wickets
Ben Musgrave - 1000 runs