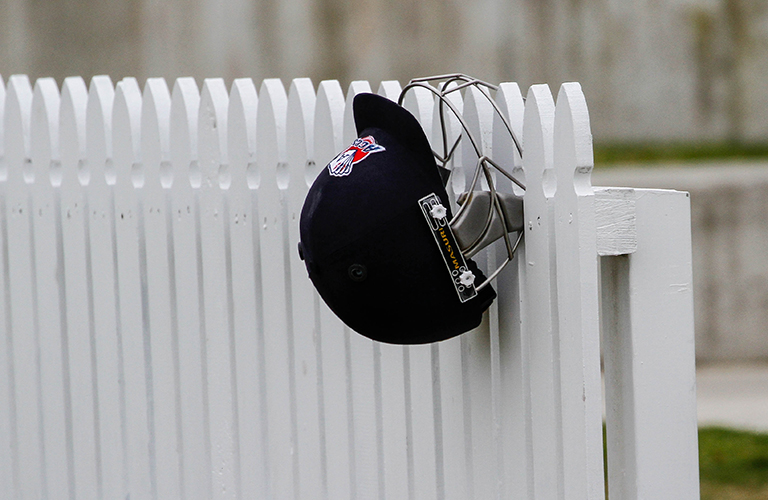 Williams Cup Review
Element IMF Cadets Even The Score Against Carrus Mount Maunganui This Season
Element IMF Cadets and Mount Maunganui, now sit on two Baywide games apiece this season, after Cadets evened the score on Saturday (4 March 217) defeating their archrivals.
Mount Maunganui opened the batting on a balmy autumn day, where rugby was being played on an adjacent field at Blake Park. The home side got away to a good start posting 50 runs before the first wicket fell. At 138 for five, the Mount looked to be on track for a big total, before Cadets fourth change bowler Ben Christensen struck back with four wickets.
The hosts were bowled out for 163 with Ben Guild top scoring with a half century. Mount keeper Matt Golding hit a handy 31, with Mark Divehall posting 29 runs. Cadets skipper Scott Steward was his teams other bowler to have solid success, taking three wickets for 21 runs.
Cadets have continued their policy of promoting young talent, with fifteen year old Fergus Lellman showcasing his batting skills, to top score with an unbeaten 64 runs. Scott Steward (34) and Ruben Clinton (29) also played a big part in Cadets four wicket win.
With just one game remaining before the Williams Cup playoffs, New World Te Puke grabbed the fourth spot on offer, defeating Eves Realty Greerton with the last ball of an absolute thriller. The visitors to the Te Puke Domain were bowled out for 195, with Dion McCall the best of the batting attack with 41 runs. Alex Gooding was in good form with the ball taking four wickets at a cost of 38 runs.
Tai Bridgman-Raison got Te Puke away to a good start reaching 63 runs before dismissal. Gareth Wallace also made a solid contribution with 44 runs. The match went down to the last ball of the encounter, with Daniel Price hoisting a big blow at the boundary ropes, for Te Puke to sneak home by a solitary run.
Over five hundred runs were scored, in a run-fest at Smallbone Park in Rotorua, between Cooney Lees Morgan Tauranga Boys College and Bayleys Central Indians. The Tauranga students took first use of the batting crease and posted a very substantial target, reaching 294/8. Ben Pomare top scored with 77 with Marcel Collett and Iman Singh both reaching the sixties.
The combined team wasn't overawed facing a big target, with Ben Sandford roaring into action. The Rotorua number three blasted 132, which is the third highest score of the current Baywide season, with his innings including fifteen 4's and two 6's.
However Tauranga Boys bowlers finally won the battle between bat and ball, removing the home side for 231 to claim a hard fought victory.
Saturday's Williams Cup results mean that Cadets, Mount Maunganui, Greerton and Te Puke will fight out the 2017 edition of the Bay of Plenty Cricket Championship.
BOPCA Williams Cup Results 4 March 2017
Carrus Mount Maunganui 163 (Ben Guild 50, Matt Golding 31, Mark Divehall 29; Ben Christensen 4/36, Scott Steward 3/21) lost to Element IMF Cadets 164/6 (Fergus Lellman 64no, Scott Steward 34, Ruben Clinton 29)
Eves Realty Greerton 195 (Dion McCall 41, Josh Healy-Ormrod 35, Jared Tutty 26; Alex Gooding 4/38, Josh Earle 2/22, Cam Riley 2/58) lost to New World Te Puke 196/8 (Tai Bridgman-Raison 63, Gareth Wallace 44, Daniel Price 25; Dan Spencer 3/33, James Boyd 2/5)
Cooney Lees Morgan Tauranga Boys College 294/8 (Ben Pomare 77, Marcel Collett 64, Iman Singh 61no; Ben Sandford 2/26, Andrew Gibbs 2/36, A Evans 2/56) defeated Bayleys Central Indians 231 (Ben Sandford 126, Prem Gill 33; Craig Baldry 2/34, Rhys Mischewski 2/37, Dominic Crombie 2/55)
Williams Cup Points Table: Element IMF Cadets 52, Carrus Mount Maunganui 46, Eves Realty Greerton 40, New World Te Puke 28, Cooney Lees Morgan Tauranga Boys College 16, Bayleys Central Indians 15.