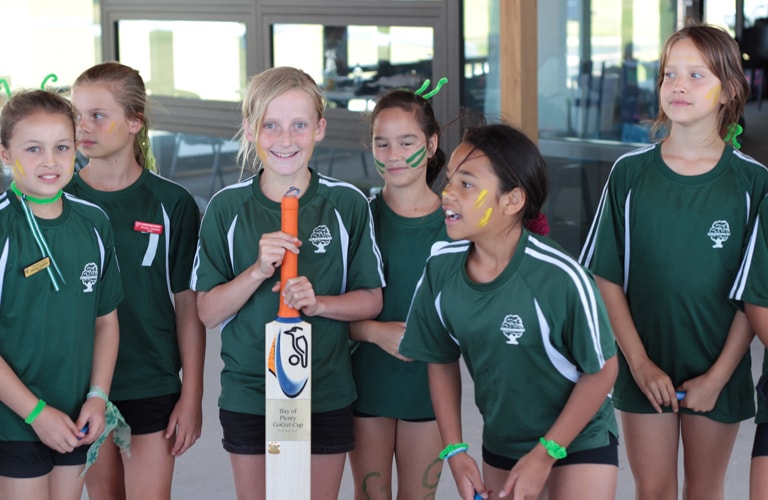 Rainbow Cup to Take Centre Stage at the Bay Oval
Thirty-Two Teams to Participate
A myriad of colour and plenty of laughter will emanate from the Bay Oval, Mount Maunganui next Wednesday (13 March 2019) - with the staging of the seventh annual Western Bay of Plenty Trillian Trust Rainbow Cup for primary schoolgirls.
The Rainbow Cup, where many of the teams dress up in different colours reflecting the rainbow, is the culmination of the GoGirl Cricket program delivered by Bay of Plenty Cricket in Bay Schools, during term four and term one of the school year.
The GoGirl program is aimed at Year 4 - 6 girls, to draw the youngsters to the game by way of a standalone girl's introduction program. Twenty-three Western Bay Schools from Otamarakau to Pahoia have taken part in the Western Bay GoGirl program. In addition six Taupo region Schools have participated in the GoGirl program in the first term of the new school year.
The Bay of Plenty Rainbow Cup follows the NZ Cricket philosophy of "Making school cricket programs all about fun, participation and developing our players of tomorrow". The Rainbow Cup gives the GoGirl graduates the opportunity to utilize their new-found cricket skills in fun non-competitive environments.
Thirty-two girls teams from twenty Western Bay Schools are set to take centre stage at Blake Park next Wednesday, in a day where laughter and having a fun time are more important than scoring runs and taking wickets.
The Rainbow Cup at Blake Park next week, is strongly focused on participation, enjoyment and fair play, with no outright winner declared on the day. The most sought after award is the best dressed, which last year was taken out by the Selwyn Ridge Unicorn Mermaids. Along with plenty of spot prizes, there are school/team awards for sportsmanship, most improved and individual brilliance.