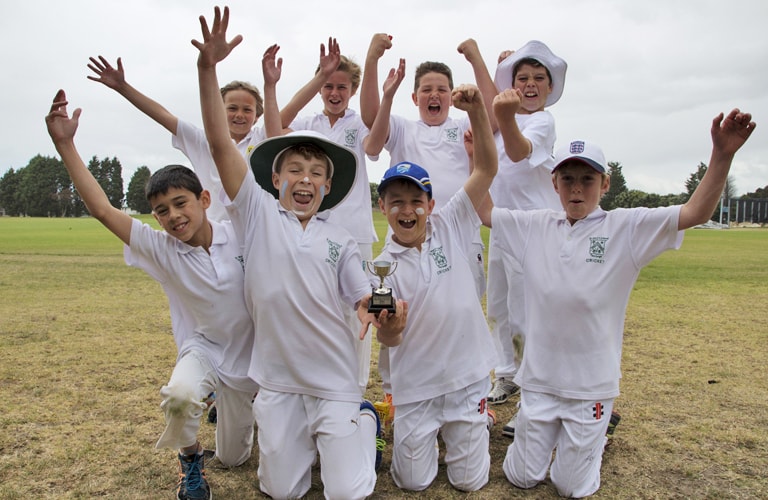 ND National Primary School Cup Finals
Mount Maunganui Finishes Second
Bay of Plenty Primary School Cup winners Mount Maunganui performed with distinction at the ND Finals played in Cambridge 31 March/2 April 2019 – winning four straight games, before finishing second to Berkley Intermediate, who will advance to the NZ Cricket National Finals in Term four.
Mount Intermediate team management stated that the success of the side at the ND tournament was based upon outstanding work in the field. Tight bowling was supported with the fields set, which saw a number of exceptional run-outs and difficult catches held.
Mount Maunganui Intermediate broke the stranglehold that Tauranga and Otumoetai Intermediates, have enjoyed in recent Bay of Plenty Primary School Championships. Mount Maunganui qualified for the Northern Districts title deciders, after defeating Papamoa College Intermediate section, in the Bay of Plenty Final.
The Bay of Plenty representative's only loss at the ND tournament, came in game one, when they drew Berkley Intermediate in their first assignment. The Hamilton School were bowled out for 88, with Dylan Forster taking three wickets at a cost of just 9 runs. The Mount School made a valiant attempt for victory before falling 15 runs short.
Day two saw the Bay of Plenty team post 84/5 and then restrict Morrinsville/Piako to 61 for six wickets. Harry Burns top scored with 23 runs with Oliver Norwood taking two wickets.
Mount Maunganui repeated their winning performance against Kamo Intermediate in round three, when they again batted first to reach 103/2, with Angus Tustin blazing away to post a unbeaten half-century. The batters from the team from the far north came and went in quick succession, as they were removed for 43, to hand the Mount boys a big 60 run win.
The penultimate round, saw Mount Maunganui post their biggest total of the five rounds of play, as they blasted 115 for the loss of just two wickets in their match-up with St Peters. Harry Burns hit the tournaments highest score of 72 not out, before the Mount bowlers restricted their opponents to 80 for five wickets, to claim another solid victory.
Southwell School reached 51/6, in a game reduced to ten over's per side, with Mount Maunganui cruising to a ten wicket win in 6.4 overs, in round five.
Emphasizing the Mount Maunganui performances at the Cambridge tournament, was the Mount Maunganui feat, of topping both the most runs and wickets tallies. Harry Burns smacked 165 runs at an impressive average of 53.67 runs per game - with Dylan Forster claiming the most tournament wickets of seven, with his best bowling figures being the three wickets for 9 runs, against the tournament winners.
ND National Primary School Cup (Twenty 20) – Results
Round One: Berkley Intermediate 88 (Dylan Forster 3/9) defeated Mount Maunganui Intermediate 73.
Round Two: Mount Maunganui Intermediate 84/5 (Harry Burns 23) defeated Morrinsville/Piako 61/6 (Oliver Norwood 2/10)
Round Three: Mount Maunganui Intermediate 103/2 (Angus Tustin 51no, Harry Burns 30) defeated Kamo Intermediate 43 (Harry Burns 2/7, Angus Tustin 2/9, Dylan Forster 2/10)
Round Four: Mount Maunganui Intermediate 115/2 (Harry Burns 72no) defeated St Peters 80/5 (Angus Tustin 2/11)
Round Five: Southwell School 51/4 lost to Mount Maunganui Intermediate 54/0 (Harry Burns 21no)
Mount Maunganui Intermediate Team
Angus Tustin, Dylan Forster, Harry Burns, Lawrence James, Lockie Williams, Nathan Tutt, Oliver Norwood, Sam Cross, Sebastian Heath.