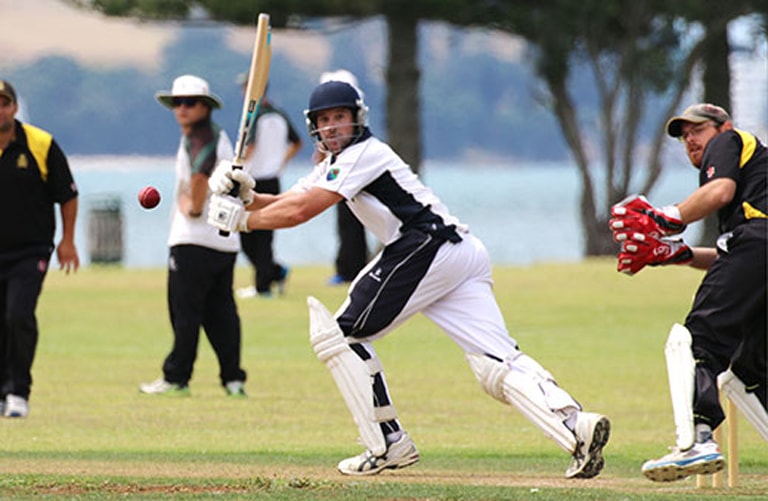 Cadets Host Central Indians in the Williams Cup Major Semi-Final at Blake Park
Semi-Final Preview
The Williams Cup top batsman and a wily veteran bowler, could play leading roles in propelling their team directly to the Williams Cup Final, thereby avoiding the repechage route to the title decider.
Element IMF Cadets and Bayleys Central Indians, who finished one-two in the Baywide Championship qualifying competition, meet in the Williams Cup major semi-final at Blake Park on Saturday (23 March 2019). The winner takes a direct route to the final, the following weekend, with the loser having to back-up the next day (Sunday 24 March 2019) against the winner of the minor semi-final, to find the second finalist.
Central Indians Captain Stephen Nicholls has led from the front with his willow weapon, throughout the Williams Cup, to sit at the top of the batting stakes. Two centuries are included, in his 380 runs, with a highest score of 126. The combined side opener has an impressive average of 76.0 to his name.
The Rotorua side also contains two of the form bowlers of the Williams Cup competition. Prabhn Gill has taken 12 wickets with a best of 5/35 with Jake Rowe having taken 11 bowling scalps.
Veteran Cadets spin bowler Jono Boult, knows plenty about the challenges of finals cricket, having played in a number of Cadets ten Williams Cup victories. The former Northern Districts professional player, has more than a few tricks up his sleeve when he is introduced into his sides bowling attack. Boult has taken eleven wickets in the current Williams Cup competition, at an outstanding economy rate of 2.13, with best figures of 5/35.
Two youngsters, who still attend secondary school, could play a big role in propelling Cadets to the final. Fergus Lellman blasted a Bay Development team century in recent weeks, while Jacob Logan has developed into a genuine all-rounder in the past six months.
Defending Williams Cup titleholders, Eves Realty Greerton, host Carrus Mount Maunganui in the Williams Cup minor semi-final, at Pemberton Park. While the sudden-death encounter puts extra pressure on both sides, both teams have several game winners in their ranks.
Veteran all-rounder Nick Smith, who has won eleven Baywide titles in the Mount green and gold uniform over the years, won't be phased by the pressure likely to be applied by the Greerton side. Ben Guild has blasted 145 runs in just two Williams Cup matches and is a genuine match winner when on song.
The Greerton top order pair of Henry Collier and Nick Hendrie, will lead their sides batting attack, with Lee Watkins and Pip Thickpenny in good recent form in the middle order. Greerton new recruit Michael Rowland has impressed with the ball with Daniel Spencer opening his sides new ball attack with plenty of success.
BOPCA Williams Cup Semi-Finals 23 March 2019
Major Semi-Final: Element IMF Cadets v Bayleys Central Indians, Blake Park 3
Minor Semi-Final: Eves Realty Greerton v Carrus Mount Maunganui, Pemberton Park.
Points Table (Final) Cadets 39, Central Indians 30, Greerton 30, Mount Maunganui 27, Tauranga Boys College 17, Te Puke 10, Lake Taupo CC 10.