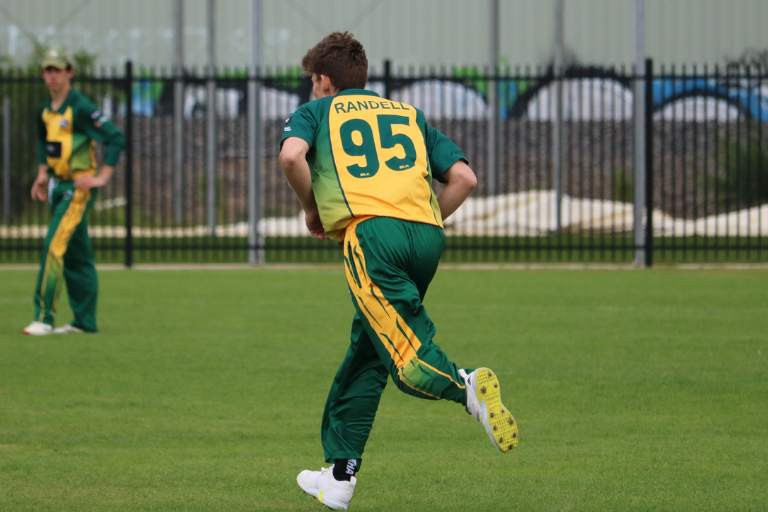 BAYLEYS BAY OF PLENTY CUP ROUND 2 ACTION
It was a dominant performance from the Bond & Co Mount Maunganui premier side as they faced off against the Element IMF Otumoetai Cadets.
Double figure contributions from the top 8, which included a high score of 43 from Ben Musgrave, saw Mount Maunganui in a great position with 234 runs after 60 overs.
The Cadets chase got off to a good start with opening batsman Marcel Collett falling just short of his half ton on 47. Coming in at 4, Tim Pringle contributed a batting masterclass, finishing up on 77 not out - however, brilliant bowling by Pete Drysdale and Northern Districts contracted player, Brett Randell (both getting 3 wickets each), and 3 ducks in as many overs secured Mount Maunganui the win.
Bond & Co Mount Maunganui vs Element IMF Otumoetai Cadets
Bond & Co Mount Maunganui - 234/9, 60 overs (Ben Musgrave 43, Peter Drysdale 34; Fergus Lellman 3 for 66)
Element IMF Otumoetai Cadets - 173/10, 46.4 overs (Tim Pringle 77, Marcel Collett 47; Brett Randell 3 for 35, Peter Drysdale 3 for 47)
Bond & Co Mount Maunganui won by 91 runs
Meanwhile, over in Rotorua, Eves Realty Greerton prems won the toss and elected to bat against the home team the Craigs Investment Partners Geyser City Prems - due to rain the game was played on artificial.
After a slow start, Nick O'Sullivan and Umesh Ranaraja put on a 4th wicket partnership of 49. After O'Sullivan was caught and bowled in the 20th over, Ranaraja continued on and formed a partnership with Mitchell Rush (69) helping take their total to a healthy 211 in the 51st over.
Jared Tutty and Daniel Spencer opened the bowling for Greerton - Tutty steaming in from one end making players duck and weave while Spencer worked his magic with the ball at the other. Wickets fell regularly with good catches taken. A brilliant 65 off 56 balls for Samuel Devereaux and a 10th wicket partnership of 41 with Cohen Stuart wasn't enough with Stuart falling to Spencer with Geyser all out for 141 in the 39th over.
Eves Realty Greerton vs Craigs Investment Partners Geyser City
Eves Realty Greerton - 211/10, 51.5 overs (Mitchell Rush 51, Umesh Ranaraja 44; Samuel Devereaux 3 for 28, Gurtej Billing 3 for 43)
Craigs Investment Partners Geyser City - 141/10, 39.5 overs (Samuel Devereaux 65; Daniel Spencer 4 for 39)
Eves Realty Greerton won by 70 runs
Generation Homes Lake Taupo Cricket Club played hosts to Papamoa in a nail biter. Aaron Barbour started strong for Papamoa, anchoring the innings and bringing up his half century in the process. Tight bowling from Taupo, in particular John Dolan who took 3 wickets at an economy rate of 2.36, restricted Papamoa to 195 in 60 overs. Michael Mitchell was in fine form for the home team, coming in at 3 and amassing 87 runs, but Mitchell's efforts as well as contributions from Caleb Bate (30), and Jesse Dowd (21) couldn't chase down the runs needed to secure the win and were bowled out in the 50th over 4 runs short of a win.
Papamoa vs Generation Homes Lake Taupo
Papamoa - 195/8, 60 overs (Aaron Barbour 52, Reece Shelton 22 not out; John Dolan 3 for 33)
Generation Homes Lake Taupo 192/10, 49.2 overs (Michael Mitchell 87, Caleb Bate 30; Ashish Dhameliya 4 for 35, Michael Brown 3 for 26)
Papamoa won by 3 runs
It was a low scoring affair in Te Puke as the Flying Mullet Te Puke prems took on Rotorua's Bayleys Central-Indians.
The Central-Indians chose to bowl first and were rewarded with 2 quick wickets in the first 3 overs. Blair McKenzie and Ben Vyver settled the innings with a 48 run partnership but central bowler, Andrews Gibbs was on fire, ripping through the middle order and helping bowl Te Puke out with a modest total of 114.
Bharat Popli opened the batting for the Central-Indians for the first time this season and showed his class with 55 not out from 68 balls. He partnered up with new player/coach Anish Desai (46) to chase down Te Pukes score in the 25th over. Cameron Riley was the only bowler to put a dent in the run chase, taking 2 wickets off his 8 overs.
The Flying Mullet Te Puke vs Bayleys Central-Indians
The Flying Mullet Te Puke 114/10, 37.4 overs (Blair McKenzie 31, Ben Vyver 31; Andrew Gibbs 4 for 37)
Bayleys Central-Indians 118/2, 24.5 overs (Bharat Popli 55, Anish Desai 46; Cameron Riley 2 for 22)
Bayleys Central-Indians won by 8 wickets