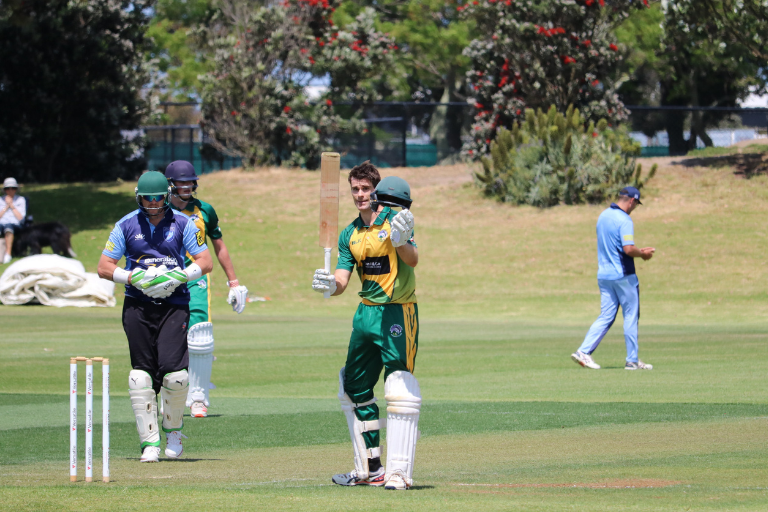 BAYLEYS BAY OF PLENTY CUP ROUND 6
A thrilling victory, a magnificent century and some skillful bowling - round 6 of the Bayleys Bay of Plenty Cup had it all!
3rd placed Element IMF Otumoetai Cadets won the toss and decided to have a bat first against 2nd placed Bayleys Central-Indians. Fergus Lellman continued his outstanding form with 75 off 110 balls putting him 2nd on the batting rankings, 1 run behind teammate Tim Pringle. Despite Central Indians player/coach Anish Desai snagging 4 wickets for 30 runs, the Cadets cruised to 229 runs from their 60 overs.
The run chase didn't go as planned with the Rotorua lads who were 54 for 3 in the 14th over. Continuing on from his 4 wicket haul, Anish Desai stabilised the innings with the top score of 39 – helping his team hold on for a losing draw.
Element IMF Otumoetai Cadets 229/9, 60 overs (Fergus Lellman 75, Tim Pringle 36; Anish Desai 4 for 30)
Bayleys Central-Indians 182/9, 50 overs (Anish Desai 39; Tim Pringle 5 for 56)
Element IMF Otumoetai Cadets winning draw
Keen to get their first win in the BOP Cup this season under their belt, the Holland Beckett Law Tauranga Boys College team found themselves having a bowl first after Papamoa won the toss.
Papamoa got off to a flying start with opening pair Aaron Barbour and Ashish Dhameliya putting on 32 runs (which included 13 off the 2nd over) before Dhameliya succumbed to the bowling of Harsh Patel. A 7th wicket partnership of 52 between Jass Randhawa and Xavier Lea helped their team to a defendable total of 179.
At 87 with 8 wickets down in the 35th over, things weren't looking promising for Tauranga Boys but they dug in and with a couple of solid partnerships from Charles Williams, Finn O'Brien-O'Loan and Troy Barnett who managed to score 94 runs between them for the 9th and 10th wicket. The game ended in a thrilling victory for Tauranga Boys, winning by 1 wicket.
Papamoa Cricket Club 179/10, 48.3 overs (Jass Randhawa 44; Finn O'Brien-O'Loan)
Holland Beckett Law Tauranga Boys College 181/9, 58.2 overs (Charles Williams 49, Finn O'Brien-O'Loan 34*; Michael Brown 3 for 40)
Holland Beckett Law Tauranga Boys won by 1 wicket
Pete Drysdale was the star of the show at Blake Park, scoring a magnificent 137 runs off 165 balls for the Bond & Co Mount Maunganui prems when they faced the Generation Homes Lake Taupo lads. He was backed up by fellow opener, Ollie White, who scored over 80% of his runs in boundaries. Moko Rivers and Will Perry kept their team in the game taking 3 wickets each but it wasn't enough to keep Drysdale at bay and Taupo found themselves needing 276 runs to take out the win.
An excellent 53 off 35 balls from Luke Woods and contributions from Habib Malik, Jesse Dowd and Will Perry weren't enough to chase down the mammoth total, falling short by 95 runs. Craig Baldry showed his bowling skills, finishing up with 5 wickets at an economy rate of 2.31.
Bond & Co Mount Maunganui 275/9, 52 overs (Pete Drysdale 137, Ollie White 41; Moko Rivers 3 for 54, Will Perry 3 for 87)
Generation Homes Lake Taupo 180/10, 41 overs (Luke Woods 53, Habib Malik 274; Craig Baldry 5 for 30, Ollie White 3 for 35)
Bond & Co Mount Maunganui won by 95 runs
After last weeks draw, Craigs Investment Partners Geyser City were looking to go one better and post their first win of their BOP Cup campaign and after winning the toss and electing to bat against the Flying Mullet Te Puke side, hopes were high. A 2nd wicket partnership of 57 between Goldendeep Brar and Jasvinder Singh and 36 from the in-form Samuel Devereaux helped Geyser city to 178 in the 55th over.
After an interrupted week with a postponed T20 match and a bye in the lasts round of the Bayleys Bay of Plenty Cup, Te Puke found themselves 36 for 3 in the 14th over. Contributions from captain Blair McKenzie (31), Ben Vyver (38) and a 41 run partnership for the 9th wicket between Christian MacDonald and Mikaere Leef got Te Puke over the line.
Craigs Investment Partners Geyser City 178/10, 54.2 overs (Samuel Devereaux 39, Jasvinder Singh 30; Mikaere Leef 3 for 24, Josh Earle 3 for 42)
The Flying Mullet Te Puke 179/8, 53.4 overs (Ben Vyver 38, Blair McKenzie 31; Samuel Devereaux 4 for 41)
The Flying Mullet Te Puke won by 2 wickets