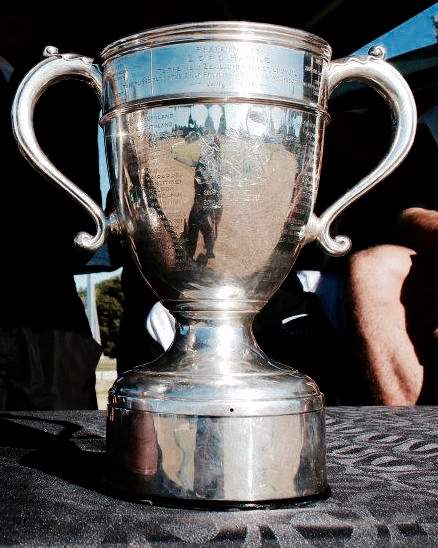 Bay of Plenty Prize Giving
SEAN DAVEY WINS BAY OF PLENTY CRICKET PLAYER OF THE YEAR AWARD
Sean Davey was presented with the Bay of Plenty Cricket 2016/17 Player of the Year Award at the annual Bay of Plenty Cricket Prizegiving, held at the Mount Maunganui Golf Club on Thursday (30 March 2017) evening.
The Bay of Plenty Senior Men's team all-rounder, performed with both bat and ball throughout the recently completed minor association representative season. Sean blasted 627 runs during the Bay first eleven Fergus Hickey Rosebowl and Hawke Cup campaigns. Sean set a mark that is likely to stand well into the future, posting centuries in three success Bay of Plenty games against Hamilton, Hawkes Bay and Nelson. To add to his batting repertoire, he also took 19 wickets in the Bay of Plenty XI twelve match representative season.
Black Cap Captain Kane Williamson was awarded the Bay of Plenty Cricket First Class Player of the Year. Kane's season highlights included over one thousand test runs which included centuries against Bangladesh, Zimbabwe and two against South Africa in the recent completed series.
A trio of players received trophies that recognized the achievements of three former high profile Bay of Plenty players. The Mike Wright batting prize was won by Sean Davey, with the Tony Goodin winning the Derek Beard bowling trophy with 22 wickets during the Bay of Plenty Senior Men's team season. Blair McKenzie was presented with the Brendan Bracewell most promising player award.
The Bay of Plenty Development batting honours went to Jonty Grigson with the bowling trophy being won by Brody Gilroy. Special trophies for representative centuries and five wickets bags recognised the batting achievements of Alex Lees, Sean Davey, Tom MacRury, Peter Drysdale, Bharat Popli and Joe Carter with Alastair Blackett, Tony Goodin, Sean Davey and Brody Gilroy taking five wickets or better.
Bay of Plenty Senior Men's coach Graeme Aldridge was presented with the David Johnson Services to Coaching Award. In just his second year of coaching the Bay of Plenty representative team, the Bay First XI retained the ND Fergus Hickey Rosebowl and made a clean sweep of the four Hawke Cup Direct Challenges against Counties Manukau, Hawkes Bay, Nelson and Southland. David Read was awarded the Peter Wright Services to Umpiring trophy.

2016/17 Bay of Plenty Cricket Awards
Bay of Plenty Cricket Player of the Year Sean Davey
Bay of Plenty First Class Player of the Year Kane Williamson
BOPCA Senior Men's Representative Team
Mike Wright Batting Trophy Sean Davey
Derek Beard Bowling Trophy Tony Goodin
BOPCA Development Team
Development Team Batting Trophy Jonty Grigson
Development Team Bowling Trophy Brody Gilroy
Brendan Bracewell Most Promising Player Blair McKenzie
Bay of Plenty Cricket Player of the Month Awards 2016/17
October Donovan Deeble (Element IMF Cadets CC)
November Tom MacRury (Bay of Plenty Senior Men's Representative Team)
December Alastair Blackett (Bay of Plenty Senior Men's Representative Team)
January Alex Lees (Bay of Plenty Senior Men's Representative Team)
February Sean Davey (Bay of Plenty Senior Men's Representative Team)
March Aquinas College First XI
Peter Wright Services to Umpiring David Read
David Johnson Services to Coaching Graeme Aldridge
Significant Representative Milestones (Centuries & Five Wickets or better)
Batting
223 Alex Lees v Counties Manukau
142 Tom MacRury v Northland
141 Sean Davey v Hawkes Bay
141 Alex Lees v Hawkes Bay
119 Peter Drysdale v Hamilton
118no Bharat Popli v Hamilton
113 Sean Davey v Hamilton
111 Sean Davey v Nelson
105 Tom MacRury v Poverty Bay
105 Joe Carter v Nelson
Bowling
6/35 Alastair Blackett v Hamilton
5/26 Brody Gilroy v Northland Development
5/30 Tony Goodin v Poverty Bay
5/42 Tony Goodin v Counties Manukau
5/60 Sean Davey v Hamilton
Hart Family Trophy (Baywide Champion of Champions) – Mount Maunganui CC
Williams Cup (Baywide Premier One-Day Championship) – Otumoetai Cadets CC
Baywide Cup (Baywide First Round) – Mount Maunganui CC
McNaughton Trophy (Baywide Reserve Grade Championship) – R&A Sangha CC