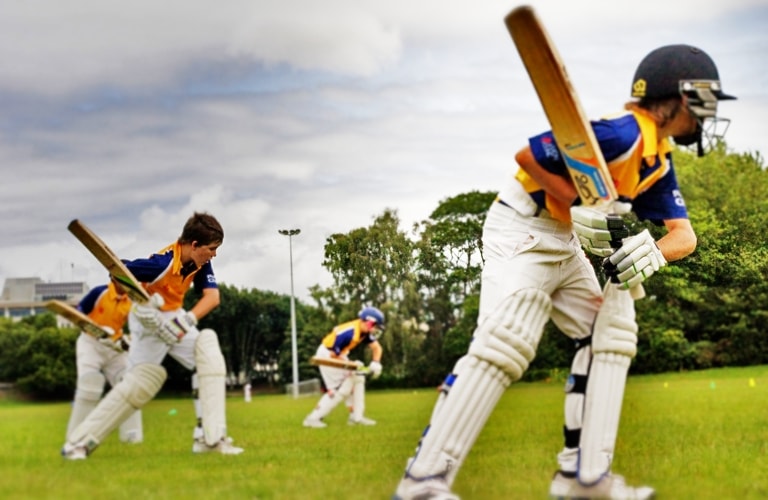 Bay Of Plenty Lakeland Finish The ND Primary Tournament With A Dramatic Win
BOPCA Season Review 2019/20
The two teams of Bay of Plenty Primary School players, who started a cricket journey in the ND Primary Championship competition, could eventually lead some of the youngsters to senior representative and top level cricket careers in the future.
The ND Primary competition, which is the first of the three ND age-group tournaments organized by Northern Districts Cricket each season, scheduled two rounds of pre-tournament competition, before the annual three day tournament in Cambridge 25/27 November 2019
Black Caps Kane Williamson, Trent Boult and Doug Bracewell, are three of the many graduates of the ND age-group pathway tournaments, with the trio taking part in the 2003 ND Primary competition.
BOPCA Primary Teams 2019
Bay of Plenty Lakeland Primary Team
Ben Clarke, Liam du Plessis, Jake Finlay, Zach Forster, Riley Kusabs, Tom Martin, Lucas Neill, Sohan Patel, Ethan Staddon, Thomas Yetsenga.
Non-Travelling Reserves: Harry Cheesman, Ryan Lloyd.
Coach: Dean Finlay Manager: Mat Staddon
Bay of Plenty Coastland Primary Team
Angus Tustin (Captain) Harry Burns, Sebastian Heath, Dylan Henderson, Billy Ramsdem, Jake Riley, Bryn Robertson, Luke Scrimgeour, Jake Stott, Jack Williamson.
Non Travelling Reserves: Ollie Norwood, Charlie Williams, Dan Anderton, Nishi Patel.
Coach: Tai Bridgman-Raison Manager: Shaun Riley
ND Invitational Team: Callum Cornelius, Asa Banbury.
BOPCA Primary Individual Awards
Lakeland MVP – Ben Clarke
Coastland MVP – Gus Tustin
Bay of Plenty Lakeland, wrapped up the three days of play at the ND Primary Cricket tournament played in Cambridge 25-27 November 2019, with a dramatic one run win.
The ND Primary tournament and two rounds of pre-tournament competition, is the first step in the ND age-group cricket pathway, with nine-aside teams contesting 40 overs per side matches.
Bay of Plenty Lakeland batted first against the ND Invitation XI and were dismissed for 149, with Ben Clarke in top form smacking 55 runs. The game was on a knife-edge, with the Bay team removing their opponents for 148, to claim a one run victory. Zach Forster did plenty of damage with the ball taking four wickets for 33 runs.
Bay of Plenty Coastland also finished the Cambridge tournament with a victory, in a match where all 16 wickets fell in the encounter. The Coastland representatives were bowled out for what looked to be a modest 83, before the Coastland bowlers stormed into the encounter, to remove the Waikato side for just 68. Harry Burns top scored with an unbeaten 23 runs with Austin Tustin taking three wickets for 20 runs.
In earlier tournament action, Bay of Plenty Coastland defeated Northland on day two with the Lakeland side going down to Hamilton. Day one saw Coastland give archrivals Hamilton a cricket lesson, with the Lakeland side posting an extremely satisfying win over a strong Counties Manukau team.
Bay of Plenty Coastland finished the 2019 ND Primary competition, with four wins and a single defeat to Counties Manukau. Bay of Plenty Lakeland can also be pleased with their competition performances, which resulted in two wins and two games that went down to the wire.
Inclement weather dictated that the opening round of the ND Primary competition, between the two Bay of Plenty teams, was played on the Sunday leading into the three-day tournament. Bay of Plenty Coastland batted first and reached 191/8. Dylan Henderson top scored with 60 runs with Austin Tustin reaching the forties. Ben Clarke took three wickets for the Lakeland representatives.
The Lakeland batsmen made a determined chase, but were restricted in their attempts to hit out by some accurate Coastland bowling to restrict them to 166 for the loss of seven wickets. Tom Yetsenga was in top form with the bat posting a gritty 56 before being dismissed.
The Primary Boys MVP awards were esented to Ben Clarke (Lakelands) and Gus Tustin (Coastlands). Gus and Ben displayed leadership, outstanding work ethic and attitude. They had the support of their teammates as well as making significant contributions with bat and ball.
ND Primary Tournament 2019
ND Primary Tournament @ Cambridge 25-27 November 2019
Day Three (27 November)
Bay of Plenty Lakeland 149 (Ben Clarke 55) defeated ND Invitation XI 148 (Zach Forster 4/33, Tom Yetsenga 2/25)
Bay of Plenty Coastland 83 (Harry Burns 23no) defeated Waikato Valley 68 (Austin Tustin 3/20)
Day Two (26 November)
Bay of Plenty Lakeland 115 (Tom Yetsenga 27, Ethan Staddon 25, Ben Clarke 23) lost to Hamilton 118/6 (Zach Forster 2/15, Tom Martin 2/20)
Northland 178 (Austin Tustin 2/22, Harry Burns 2/29, Jake Stott 2/45) lost to Bay of Plenty Coastland 182/7 (Harry Burns 58, Dylan Henderson 36)
Day One (25 November)
Bay of Plenty Coastland 230/8 (Sebastian Heath 65rt, Austin Tustin 41rt, Dylan Henderson 38) defeated Hamilton 132 (Austin Tustin 2/14, Jake Stott 2/20)
Counties Manukau 189/6 (Riley Kusabs 3/26) lost to Bay of Plenty Lakeland 190/6 (Sohan Patel 65, Ben Clarke 24, Tom Martin 22)
Round Two 17 November
Waikato Valley 178/7 (F Morey 50; Sohan Patel 2/13, Zach Forster 2/27) defeated Bay of Plenty Lakeland 88 (Tom Martin 39)
Bay of Plenty Coastland 184/5 (Dylan Henderson 54, Harry Burns 40, Bryn Robertson 30) lost to Counties Manukau 186/6 (Angus Tustin 2/24)
Round One 10 November (Played @ Cambridge 24 Nov after no play on the 10 Nov)
Bay of Plenty Coastland 191/8 (Dylan Henderson 60, Austin Tustin 41, Bryn Robertson 32; Ben Clarke 3/29) defeated Bay of Plenty Lakeland 166/7 (Tom Yetsenga 56, Ben Clarke 28; Austin Tustin 2/10, Jake Stott 2/27)