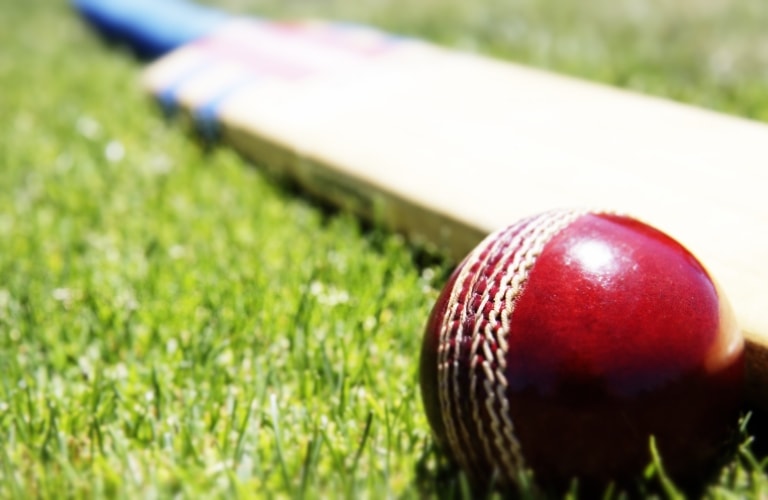 Bay of Plenty Cricket 2018-19 Season Review – Jr Girls and U14 Teams Experience Tournament Success
Girls Rep Teams' Results
The Bay of Plenty Junior Girls representatives, can be pleased with their performances at the ND tournament held at Kaipara Flat 11/12 November 2018.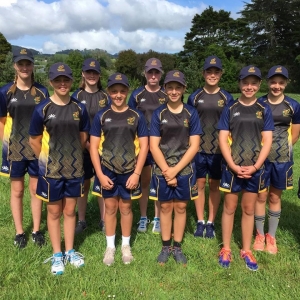 BOPCA Junior Girls Representative Team at 2018 Kaipara Tournament
Two wins and two losses, saw the Bay of Plenty team finish in a share of second place. First up the Bay girls restricted Northland to 51/6, with Ella Rose Carter bowling with real enthusiasm to take three wickets at a cost of just 4 runs. Tash Wakelin top scored in the Bay of Plenty victory.
Tash Wakelin backed up her game one batting, with four wickets against Counties Manukau, as the Bay side restricted their opponents to 56/4. Bay of Plenty strolled to the win points on offer losing just two wickets. Mya Clarke, Grace Kahle and Rachel Wahab all contributed at the batting crease.
After round three was rained off, the next two encounters resulted in two Bay of Plenty losses. Waikato Valley got home for the loss of three wickets after the Bay side posted 62/4. In the final stanza, Poverty Bay cruised to victory without loss, in reply to the Bay of Plenty score of 50 for the loss of three wickets.
The Bay of Plenty Under 14 Girls representative team, returned home from a tournament against two Cornwall Cricket Club sides and a visiting Christchurch Girls team in Auckland 6-7 April 2019, with two wins from the two matches that they played.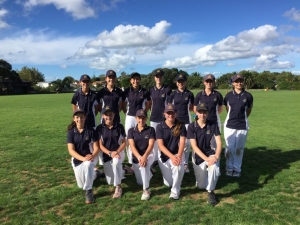 With the Saturday matches abandoned because of wet weather, the Bay of Plenty side played two Twenty 20 encounters on day two.
Bay of Plenty Coach Rebecca Yee said "While we didn't get to play the Christchurch girls, they were beaten by the Cornwall first team, which would suggest that we were the strongest side at the tournament". "This is the fourth time we have played in this tournament, with the two from two wins this season, being our best result".
First up was the Cornwall Club top side, who batted first and reached a solid 101/4. Aimee Unwin was in top form taking two wickets, after the Bay side struggled a little to get early wickets. Tash Wakelin (34no) and Jorja Neill (26no) fought hard to get the required runs, with victory coming in the 19th over.
Bay of Plenty were in solid form with the bat, against the Cornwall Development team when they posted 123 for the loss of four wickets. Amelia Harvey posted a big milestone with a half century, finishing with 55 not out in the scorebook. Aimee Unwin also made a solid contribution reaching the twenties.
Another big Under 14 Girls milestone came, when Tash Wakelin grabbed a triple wicket maiden over, as their opponents were bowled out for just 55. Amy Clegg chimed in with two wickets in the Bay of Plenty big 68 run win.
For the second year in a row, the ND Secondary Schoolgirls tournament clashed with the NZ Cricket Secondary Schoolgirls National Finals, in which Tauranga Girls College again represented North Districts. The silver lining with the absence of the Tauranga Girls players at the National finals, provided the opportunity for a number of promising youngsters to make their Bay of Plenty debut.
Inclement weather at Fergusson Park in Tauranga resulted in no play on the day one and the Bay of Plenty day two encounter with Poverty Bay being abandoned, after the home team batted first and reached 49 for the loss of five wickets.
A busy final day saw the Bay of Plenty representatives play three games without success. The real reward for Bay of Plenty team, was the introduction of several Intermediate School players to another level of girl's representative cricket.
ND Junior Girls Tournament @ Kaipara Flats - 11/12 November
Bay of Plenty Team: Mya Clarke, Amelia Harvey, Annie Nolan, Tash Wakelin, Cate Wahl, Elle Archer, Rachel Wahab, Grace Kahle, Ella Rose Carter.
Coach: Rebecca Yee
Results
Game One: Northland 51/6 (Ella Rose Carter 3/4) lost to Bay of Plenty 53/4 (Tash Wakelin 10)
Game Two: Counties Manukau 56/4 (Tash Wakelin 4/12, Ella Rose Carter 2/4 lost to Bay of Plenty 59/2 (Mya Clarke 13no, Grace Kahle 12, Rachel Wahab 10)
Game Three: Rained Off
Game Four: Bay of Plenty 62/4 (Cate Wahl 14) lost to Waikato Valley 63/3 (Grace Kahle 2/7, Ella Rose Carter 2/8)
Game Five: Bay of Plenty 50/3 (Amelia Harvey 13no) lost to Poverty Bay 51/0
Under 14 Girls Tournament @ Auckland 6-7 April 2019
Bay of Plenty Team: Tash Wakelin – captain, Grace Kahle (Aquinas College) Jorja Neill (Tauhara College, Taupo) Mya Clarke (Te Puke High School) Phoebe McLaren (Papamoa College) Amelia Harvey, Ellie Archer, Aimee Unwin, Amy Clegg. Anaaya Gould, Georgia Kaye, Cate Wahl (Tauranga Girls College)
Coach: Rebecca Yee
Twenty 20 (Sunday 7 April 2019)
Cornwall CC XI 101/4 (Aimee Unwin 2/20) lost to Bay of Plenty 102/2 (Tash Wakelin 34no, Jorja Neill 26no)
Bay of Plenty 123/4 (Amelia Harvey 55no, Aimee Unwin 20no) defeated Cornwall CC Development 55 (Tash Wakelin 3/0, Amy Clegg 2/12)
ND Secondary Schoolgirls Tournament @ Fergusson Park Tauranga 3rd – 5th December 2018
Bay of Plenty Team: Jorja Neill (Taupo-nui-a-tia College) Amelia Harvey, Aimee Unwin (Tauranga Intermediate) Tash Wakelin, Grace Kahle (Aquinas College) Ella Fitzgerald (Otumoetai College) Jessica Rolleston, Hannie Mastry, Phobie McLaren (Papamoa College)
Coach: Rebecca Yee
Results
Day One (Monday 3 December) Round One – No play due to wet weather
Day Two (4 December) – T10
Bay of Plenty 49/5 v Poverty Bay (game abandoned)
Day Three (5 December) - T10
Round Three - Counties Manukau 76/3 defeated Bay of Plenty 40/6.
Round Four - Waikato Valley defeated Bay of Plenty
Round Five - Hamilton 131/1 defeated Bay of Plenty 46/3