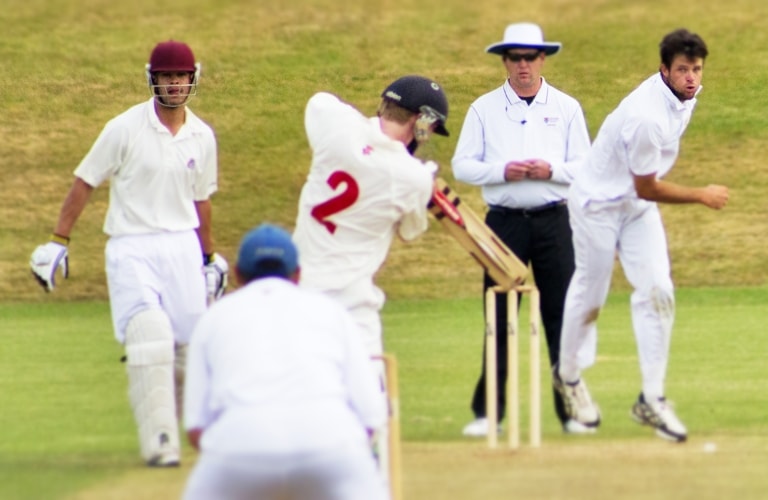 Bay Of Plenty Batsman Posts Unbeaten Hawke Cup Century On Debut
BOPCA Season Review 2019/20
Eighteen year old Taylor Bettelheim, became the first Bay of Plenty Cricket player to post an unbeaten Hawke Cup century on debut, in his provinces 34th Hawke Cup Direct Challenge match played at Galloway Park in Hamilton 31st January – 2nd February 2020.
Bay of Plenty earned a Hawke Cup Direct Challenge in January 2020, when they won an absolute thriller against Northland in their first Fergus Hickey Rosebowl game of the season, during November 2019. The Bay side batted first and were bowled out for 282, with two Bay young guns in Fergus Lellman and Taylor Bettelheim posting half-centuries.
Northland batsman Thorn Parkes took his team to the cusp of victory, with Northland needing one run to tie and two for victory, with Parkes sitting on 129 not out. Bay of Plenty spin-bowler Peter Drysdale then weaved magic with the ball to grab the wicket of the Northland centurion, who finished a defiant innings stranded on 129 runs, with Bay of Plenty posting a dramatic victory to earn the NZC Zone One 2020 Hawke Cup Direct Challenge spot.
There is no more prestigious prize in NZ Cricket Minor Association competition than the Hawke Cup. The Hawke Cup, which is the symbol of Minor Association cricket superiority in New Zealand, was presented by Lord Hawke in 1910 and is amongst the oldest cricket trophies still contested in the country.
From a humble start in 1932, the Bay of Plenty Representative team has gone on to win the Hawke Cup on five occasions and then defend the NZ Cricket prize a further eleven times. The 2011 to 2020 decade, was a golden time in Bay of Plenty Cricket, with the Bay sides winning the Hawke Cup in 2013 and 2016 and repelling four challenges apiece before the Hawke Cup prize was lost in combat.
Bay of Plenty Cricket Hawke Cup Direct Challenge Matches 1932 - 2020
Played 34
Won 16
Lost 17
Abandoned 1
The score book will show that Bay of Plenty won the toss in the Hawke Cup challenge and batted first, reaching 234 for the loss of five wickets, at stumps on day one. Bharat Popli was in good touch with 67 runs before being dismissed, with Peter Drysdale (31) and Daniel Flynn (27) making good starts.
Coming in at four, in the high profile Hawke Cup Direct Challenge against Hamilton, Taylor Bettelheim never looked like surrendering his wicket, as he blasted 108 not out, in the Bay of Plenty total of 271 all out. The Western Bay of Plenty young man showed maturity beyond his years, as faced 257 balls in his 322 minutes at the crease.
Playing in the Bay of Plenty team alongside such cricket luminaries as former Black Cap test star Daniel Flynn, ND batsman Bharat Popli and Bay one-hundred game veteran Peter Drysdale, the youngster looked extremely comfortable in the furnace of Hawke Cup cricket.
Taylor became just the fifth Bay batsman to score a Hawke Cup Direct century on debut, since Bay of Plenty's first Hawke Cup Direct Challenge in 1932, following in the footsteps of an elite group of Bay batsman in Alex Lees. Brett Hampton, Joe Carter and Donovan Deeble.
Bay of Plenty were removed for 271, in 122 overs, with Hamilton at 162 for six wickets at the conclusion of day two. Hamilton defied all attempts to bowl then out on the final days play, reaching 306/8, to retain the Hawke Cup by way of taking first innings points from the match.
Two further Bay of Plenty young men stepped up to the plate, with the ball, with Tim Pringle taking three wickets in a marathon 41 overs and Dominic Crombie returning 2/44.
While the Bay of Plenty side were disappointed to have fallen at the last hurdle in regaining the symbol of NZ Cricket Minor Association superiority, the encounter produced a number of individual miles stones.
Peter Drysdale, increased his Bay of Plenty Hawkes Cup Direct Challenge appearances to a record 14 matches, two ahead of Bay of Plenty Cricket legend Derek Beard, with captain Ben Musgrave moving into eighth equal on the all-time list with nine games,
Former Black Cap Daniel Flynn registered his first Hawke Cup Direct Challenge appearance in his long and distinguished career, while Stephen Crossan, Taylor Bettelheim, Blair McKenzie, Dominic Crombie, and Josh Earle all earned Hawke Cup playing honours.
Hawke Cup Direct Challenge @ Galloway Park Hamilton 31 January/2 February 2020
Craigs Investment Partners Bay of Plenty 271 (Taylor Bettelheim 108no, Bharat Popli 67, Peter Drysdale 31, Daniel Flynn 27; MR Dodunski 4/37, JD Baker 3/86)
Hamilton 306/8 (BJ Hatwell 78no, FL Walker 64; Tim Pringle 3/77, Dominic Crombie 2/44, Peter Drysdale 2/67)
Result: Hamilton retained the Hawke Cup by way of first innings points.
Bay of Plenty Team v Hamilton - (Hawke Cup Direct Challenge appearances in brackets)
Peter Drysdale (14) Ben Musgrave - captain (9) Bharat Popli (7) Chris Atkinson (6) Tim Pringle (2) Stephen Crossan (debut) Taylor Bettelheim (debut) Daniel Flynn (debut) Blair McKenzie (debut) Dominic Crombie (debut) Josh Earle (debut)
Hawke Cup Centuries on Debut
223 AZ Lees v Counties/Manukau (2017)
194 BR Hampton v Hamilton (2013)
187 JF Carter v Hamilton (2013)
108no TJ Bettelheim v Hamilton (2020)
108 DM Deeble v Counties Manukau (2017)