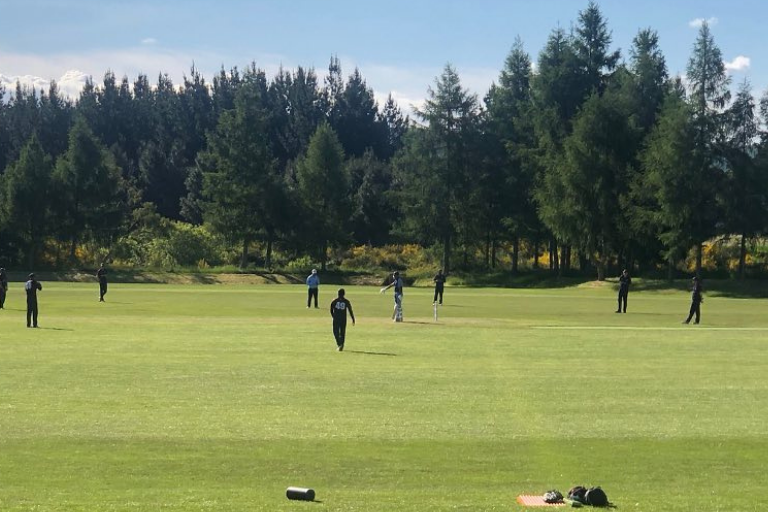 ALL THE ACTION FROM ROUND 5 OF THE BAYLEYS BOP CUP
We are now past the halfway point of the Bay of Plenty Cup for the 2021/22 season and the front runners are pulling away from the pack...here is how round 5 played out:
The Craigs Investment Partners Geyser City Premiers were on fire with the bat with 4 players scoring 40 or more against Generation Homes Lake Taupo.
Opening batsmen Vinay Pathania and Cam Ingram got off to a solid start with a 63 run partnership before Ingram fell victim to the bowling of Will Perry. Jasvinder Singh held it together in the middle overs with 45 off 81 balls while a 7th wicket 70 run partnership between Cohen Stewart (40) and Samuel Devereaux (58 not out) pushed Geyser City's score to an impressive 270/7 after their 60 overs.
Taupo opener Michael Mitchell embraced the challenge and kept his team in the game with 83 not out. Partnering up with captain Habib Malik, the duo put on 102 runs until Malik was out lbw. With minimal contributions from the rest of the batting line up, and tight bowling from Geyser City, Lake Taupo could only amass 206 - giving the Craigs Investment Partners Geyser City side the winning draw.
Craigs Investment Partners Geyser City 270/7, 60 overs (Samuel Devereaux 58*, Vinay Pathania 54, Jasvinder Singh 45, Cohen Stewart 40; Moko Rivers 2 for 35)
Generation Homes Lake Taupo Cricket Club 206/7, 49 overs (Michael Mitchell 83*, Habib Malik 44; Samuel Devereaux 3 for 29)
Craigs Investment Partners Geyser City Winning Draw
After coming off a win and a draw in the last 2 rounds of the Bay of Plenty Cup, Papamoa were hoping to start strong when they batted first against Bond & Co Mount Maunganui. Unfortunately, it didn't play out that way with the Mount Maunganui bowlers ripping through the batting line up bowling them out for 127. Nikhil Vishwanath top scored with 30 before succumbing to a run out by debutant Oli White.
Mount Maunganui wasted no time in their run chase with Pete Drysdale playing aggressively with 64 off 53 balls. Fellow opener Ben Pomare contributed a quick fire 17 off 9 balls before being caught by Ryan d'Abo. Captain Ben Musgrave and Drysdale finished it off in the 19th over, giving the away side a 6 wicket win.
Papamoa Cricket Club 127/10, 49.4 overs (Nikhil Vishwanath 30; Craig Baldry 3 for 16)
Bond & Co Mount Maunganui 131/4, 18.1 overs (Pete Drysdale 64, Ben Musgrave 31*; Ryan d'Abo 2 for 13)
Bond & Co Mount Maunganui won by 6 wickets
It was an early finish in Rotorua for Holland Beckett Law Tauranga Boys College and top of the table Bayleys Central-Indians.
Being sent in to bat first, Tauranga Boys couldn't get going against a strong Central-Indians bowling line up and were all out in the 37th over. Billy Syme was a shining light for Tauranga Boys, scoring 31 not out off 36 balls.
The central Indians had a rocky start to their run chase with Kane and Sandhu departing the crease early. Daniel Ford and Nadeera Nawela stabilised the innings, putting on a 49 run partnership before Nawela was bowled in the 15th over by Troy Barnett. Rapidly running out of wickets, Player/Coach Anish Desai and Julian Danby put on an 8th wicket partnership of 36 to secure the game in the 39th over.
Holland Beckett Law Tauranga Boys College 107/10, 36.1 overs (Billy Syme 31; Stephen Nicholls 3 for 19, Anish Desai 3 for 39)
Bayleys Central-Indians 108/7, 38.1 overs (Anish Desai 28*, Nadeera Nawela 26, Daniel Ford 26; Troy Barnett 3 for 21, Billy Syme 2 for 15)
Bayleys Central-Indians won by 3 wickets
It was a tough day on the park for Eves Realty Greerton as they faced the Element IMF Otumoetai Cadets.
After winning the toss and deciding to bat, the Otumoetai openers got off to a great start, putting on 42 before Marcel Collett was bowled in the 14th over. Fergus Lellman and Tim Pringle, who are both heading to Taupo later this week to represent Northern Districts A, partnered up to add 94 runs from 72 balls.
Cadets bowler Mayura Galappaththi set the tone with 2 wickets in his first over….he went on to take 8 wickets at an economy rate of 2.85! Daniel Price was the top scorer for Greerton with 36 off 42 balls but the men in black and yellow never came close and were bowled out for 100 in the 32nd over.
Element IMF Otumoetai Cadets 239/10, 51.5 overs (Fergus Lellman 68, Tim Pringle 61, Andrew Mascall 42; Daniel Price 4 for 58, James Boyd 3 for 62)
Eves Realty Greerton 100/10, 31.5 overs (Daniel Price 36, Lee Watkins 20; Mayura Galappaththi 8 for 28)
Element IMF Otumoetai Cadets won by 139 runs